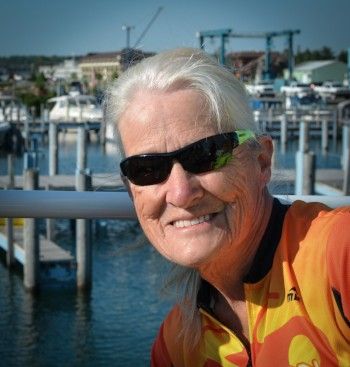 Pat will ever be known as "TooTall" to those who loved her. She was tall enough to contain all the outsized things she had done – hike the entire Appalachian Trail with her kids, start her own painting business, bike across country, start Senior Cycling and of course, play and coach softball well into her 70s. And more.
Pat Blackmon was a truly amazing person. She was a child model. Her brother was a famous art critic, and close friend of Andy Warhol. Over two summers in the 70's, she, her partner Vera and their sons walked the entire length of the Appalachian Trail. She and Vera relocated to a country home from Arlington, and partially and occasionally assisted in the overhaul renovation of the home, their pride and joy.
She was an activist, participating in the marches on the mall in 1968-1970, and she watched in person from the lawn as Martin Luther King Jr. gave his "I Have a Dream" speech. She was an early subscriber to Ms. Magazine, and participated in many marches for Women's Rights, including forming a ring around the US Capital and holding hands with her hero, Joan Baez.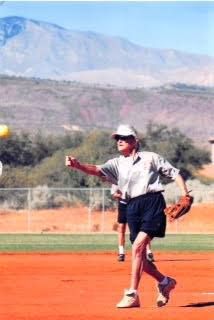 When Pat Blackmon was 60, she rode in a group with 17 senior women on a bicycle trip across the country — from San Diego to St. Augustine, Florida. It was on this trip that she called her daughter and told her that she could "do this better," and she did. Senior Cycling was born, and grew to be a successful company promoting health and enjoyment in one package. Between Pat's expertise in cycling, the innovative trips they created and Vera's meals, a better vacation could not be had.
Her true love was softball. She became the first woman inducted into the National Senior Softball Hall of Fame. She helped build the senior women's league in Northern Virginia from 16 players in 1990 to over 170. She played in that league for 17 years, until she turned 50. She pitched on the Golden Girls 50+ and 55+ competitive teams for 12 years. She won one of many gold medals in the Senior Olympics in 1991 for softball. (Prior to this, she regularly won for women's horseshoes, and even once played on a gold medal winning basketball team.)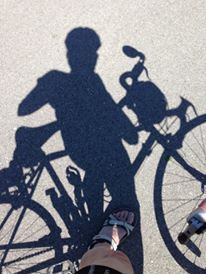 She was college educated, a painter (house), a cab driver, an adventurer, an angler, an athlete, a force of nature, a daughter, a sister, a wife, a mother to a brood of remarkable people (Lori Todd, and Vera's sons Shaun and Troy), a great partner to our sweet Vera, an incredible grandmother to Kyle and Brian, a half-grandmother to Elise, Liam and Katherine. She was preceded in death by her daughter and business partner, Jennifer whose life was cut short by cancer. It was loss that Pat never got over, but it also didn't stop her.
Few tasks were too big for her. She was a charter member of the take-care-of-business school of life, rolling up her sleeves and doing what needed to be done. No excuses, dammit!
She was:
Tall enough to hold all that she felt—her fierce love for Vera, her kids, Vera's kids, and their countless friends.
Too tall to be small-minded or short-tempered (except when it was justified, as in bad calls from the ump). She stretched our minds and our sense of what is possible in one very full, meaning-filled life.
Big-hearted enough to celebrate life's small joys – good (not cheap) wine, excellent food, happy occasions, mexican-train dominoes, hilarious stories, travel to new and much-loved places, sunsets with cocktails, silly theme parties, well-played games.
Pat opened wide her arms to life and to us. She deepened our awareness and widened our vistas. We are all better people for knowing her.