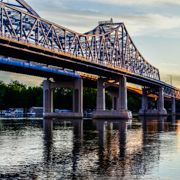 Between our Wisconsin and Minnesota tours we offer this 4-day trip, featuring classic rail trails in both states.
Wisconsin and Minnesota have an abundance of rail-trails, spread out across the state. We will ride the famous Elroy Sparta Trail, the Great River Trail and Minnesota's wonderful Root River Trail on this adventure. This tour is short and sweet, with lots of biking on some outstanding rail trails. To make things even sweeter, we will spend all 4 nights at the same hotel in downtown La Crosse, Wisconsin. Join us!
Tour Leaders: Mark Troy and Jack Pettry
Included
4 nights lodging
2 dinners, 1 lunch, 4 breakfasts
sag support
bike trail passes for the trails we ride
---
Itinerary
Day 1

Meet riders in La Crosse, Wisconsin for our introductory meeting and dinner.

Day 2

32 miles - Today we begin our biking adventure with a 32 mile ride on the fabulous Root River Trail in SE Minnesota. This all-paved trail follows the Root River as it winds through forests, past farms and marshes. You'll be treated to views of the tall bluffs which surround the river valley. We plan to ride from Houston to Lanesboro, with a lunch stop in Rushford. Save room for pie in Whalan! We'll end the ride in Lanesboro, where you'll be able to get a treat or visit a shop or two while we load bikes before heading back to La Crosse for the night.

Day 3

39/15 miles - Today we'll bike two of Wisconsin's excellent trails, the La Crosse River Trail and the Great River Trail. These both follow river valleys, as their names suggest, using the old railroad bed. We will give riders the option of riding both trails (39 miles) or just the Great River Trail (15 miles). We will end the ride in Trempealeau, a scenic spot on the Mississippi. While you poke around town, we will load up the bikes before we return to La Crosse for the night.

Day 4

35 miles - How about a ride on the nation's first Rail Trail? Today we will do just that, as we bike the award-winning Elroy-Sparta State Trail. We'll get an early start from La Crosse and begin biking mid-morning. A lunch stop is planned in Wilton, at about the halfway point. Bring a flashlight for the tunnels! The ride finishes with a nice downhill into Sparta. You can explore the trailhead visitor center while the bikes are loaded. A short van trip back to La Crosse for our final night's stay. Tonight we will celebrate our adventures and new friendships with a meal at a nearby restaurant. It's been a fun day!

Day 5

10 miles - Today we'll bike some urban trails in La Crosse. If you're not wanting to ride, you might enjoy exploring downtown La Crosse or a walk along the beautiful Riverwalk path just behind our hotel. We plan to be finished biking by 10:00. Checkout time is 11:00. We'll say goodbye for now - thanks so much for joining us in the Upper Midwest!
---
Difficulty Level: Intermediate-Plus
Wisconsin's State trails are mostly crushed rock and are quite smooth. Minnesota's Root River Trail is all paved. We do not recommend tires smaller than 28mm for this tour, due to the unpaved trails. Our intermediate-plus level rating is based on longer miles, biking some unpaved trails, some gentle-moderate uphills, and biking through unlit tunnels. While not difficult, this is not a beginner-level tour. 
Suggested bicycle: Touring bikes, road bikes, hybrids
Suggested tire size for this tour: 28mm – 37mm (or larger)
---
Pricing
$1260 per person (based on double occupancy)
$440 – Single Supplement (extra price to have your own room without a roommate)
$100 – Bike Rental (helmet, bike bag and lock included)
---
Your Travel Plans
For this tour we meet on Friday, July 16, 2021 at 5:00 pm at Courtyard by Marriott La Crosse Downtown/Mississippi Riverfront.
Address: 500 Front St S, La Crosse, WI 54601 
Phone: (608) 782-1000
The trip ends on Tuesday, July 20th. 
If you are flying, the nearest airport is La Crosse Regional Airport, 2850 Airport Dr, La Crosse, WI 54603.
There is shuttle transportation to our hotel, but reservations are required and space is limited based on availability. You need to make your own arrangements.
If you are driving, meet us at the hotel. You may leave your car at the hotel during our tour. 
---
Your Lodging Plans
Your night's lodging from Friday, July 16, 2021 through Monday, July 19 is included. Your night's lodging on the day the trip ends (Tuesday, July 20) is not included. That night is at your expense and reservations for that night are your responsibility.