Twin Cities 2021
This form stopped accepting submissions on July 18, 2021 5:00 pm EDT.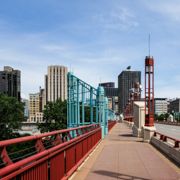 Join us for this NEW TOUR, all within the Minneapolis - St Paul, Minnesota area. Long recognized as one of the nation's very best cycling cities, Minneapolis has an incredible network of bike paths. Cyclists are able to navigate from Minneapolis to St Paul, along the many rivers, over beautiful bridges, through forests, quiet neighborhoods, and urban areas, all on the innumerable paths and city routes. 
On this tour, we will explore some of the best routes the Twin Cities has to offer, including:
The Grand Rounds
Minnehaha Falls and Park
Downtown Minneapolis
Downtown St Paul
Mississippi River Paths East and West
Chain of Lakes
Midtown Greenway
We've set up this trip as a "hub-style" tour, in which we will spend all nights at the same hotel. Our daily rides will begin and end at the hotel each day. We will have a support vehicle as a SAG, in case you need a lift. This all adds up to a super-fun, relaxing tour in a very vibrant location. In addition to our biking days, you'll have a "rest day" to see the sights.
Just a few of the points of interest to explore in the area:
Guthrie Theater
Walker Art Center
Minneapolis Sculpture Garden
Mill City Museum
Minnesota State Capitol
Como Park Zoo and Conservatory
Fitzgerald Theater
Mall of America
Science Museum of Minnesota
Bring what you wish - we won't have any luggage limits on this trip! E-bikes are welcome, too. 
Regarding the cycling, the bike paths are paved. Some sections do have a few short hills. Overall we rate the difficulty as moderate. Being an urban location, using popular cycling routes, we will be sharing the trail with other pedestrians and cyclists, so good bike handling skills and etiquette are necessary. 
Tour Leaders: To be announced
Included
5 nights lodging
1 dinner, 5 breakfasts
sag support
nightly social hour
sweep rider support
daily cue sheets and maps
---
Itinerary
Day 1

Meet riders in St Paul for our introductory meeting and social hour.

Day 2

30 miles – We begin our tour by cycling a loop route along the Mississippi River Trails to Minnehaha Falls Park where you can see the sights. After lunch we'll cross over the river on one of the many bridges, to Mendota, where you'll enjoy lunch on your own. For the afternoon's ride, we will head back toward downtown St Paul. You'll get great views of the downtown from the trail. Take your time getting back to the hotel and take in the art deco styling of St Paul's City Hall building and other iconic structures of this great city.

Day 3

30 miles - Today we'll bike roughly half of the well-known Grand Rounds Route.

Day 4

Today we'll bike all morning. The route will take us along Summit Avenue, from St Paul to Minneapolis. You'll be amazed by the gorgeous homes lining the street. Next we will bike past some landmarks of downtown Minneapolis - Guthrie Theater, Mill City Museum and Park, Stone Arch Bridge, and more. We'll return to downtown St Paul via the Midtown Greenway and the Mississippi River Trail. This afternoon you're free to see the local sights. Rent a kayak or canoe. Tour one of the many museums or hop back on your bike and explore the area some more.

Day 5

40 miles - Today we bike west to ride the Chain of Lakes route. Lake Nokomis, Lake Harriet, Lake Calhoun, Lake of the Isles, and Cedar Lake will be included. You'll see a lot of water today!

Day 6

This morning you can take your time and enjoy the area surrounding our hotel. Take a stroll or a short bike ride. Check-out time is 11:00. We'll say our goodbyes, for now, and go our separate ways. It's been a fun tour of the Twin Cities!
---
Difficulty Level: Moderate
Our Twin Cities routes are all paved. The trails are suitable for all bicycles. There is some street riding in places, using recommended bike routes. There are a few short hills in places, but most of the paths are fairly flat.
Suggested bicycle: Touring bikes, road bikes, hybrids
Suggested tire size for this tour: 28mm or larger
---
Pricing
$1660 per person (based on double occupancy)
$360 – Single Supplement (extra price to have your own room)
$100 – Bike Rental (helmet, bike bag and lock included)
---
Your Travel Plans
For this tour we meet people on Sunday, July 18, 2021 at 5:00 pm at our Downtown St Paul hotel.
The trip ends on Friday, July 23. 
If you are driving, meet us at the hotel. Parking is included in the tour price. 
---
Your Lodging Plans
Your night's lodging from Sunday, July 18 through Thursday, July 22 is included. Your night's lodging on the day the trip ends (Friday, July 23) is not included. That night is at your expense and reservations for that night are your responsibility.
This form stopped accepting submissions on July 18, 2021 5:00 pm EDT.