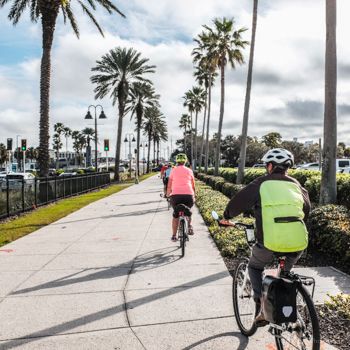 Bike the Pinellas with us! 
Originally scheduled for February 2021, this tour will be rescheduled.
For the more adventurous rider, our NEW Pinellas Vagabond Tour is like 2 tours in one. We've combined highlights from our new Dunedin Hub and St. Petersburg Hub tours into this one outstanding trip. 
The central theme of our tour is the Pinellas Trail, a wonderful rail trail which connects St Petersburg with Clearwater, Dunedin, Tarpon Springs and other smaller cities. This well-known trail is very popular and passes through quiet neighborhoods, manufacturing centers, past coffee shops and breweries. On this tour we will explore areas north of Dunedin with a ride up to Tarpon Springs, a Greek community, where you'll be able to see the famous Sponge Docks, and enjoy some delicious Greek food. To the south of Dunedin is Clearwater and nearby Clearwater Beach, with its stunning white sandy beaches. Further south lies the downtown St. Petersburg area. And the Pinellas Trail links them all together, our corridor for adventure.
Our mileage averages around 25 per day, but more miles are certainly available if you want them! The riding on our tour will all be on paved bike paths.  
What is a Vagabond Tour? Think of it as going everywhere on your bike and having a SAG support van. We relocate twice on this trip, but you'll just ride your bike to the hotel, while we haul your luggage! Of course, the van is always available for any rider that needs a lift. 
Tour Leaders: Mark and Colleen Troy 
Included
6 nights lodging
6 breakfasts
1 dinner
sag support
daily cue sheets and maps
daily social hour!
---
Itinerary
Day 1

Meet riders in Dunedin for our introductory meeting and social hour.

Day 2

21 miles - We'll bike the Pinellas Trail south to Taylor Park, then backtrack to Clearwater, where we will take the high bridge path over the bay to Clearwater Beach. This is a spectacular ride! Lunch is on your own in Clearwater Beach. You can explore the beach or walk out on Pier 60 Fishing Pier, or check out the Clearwater Marine Aquarium, before heading back to Dunedin.

Day 3

25 miles - Greek food, the Sponge Docks, Wall Springs Park, and more great cycling. That sums up today's activities. We'll bike north on the Pinellas Trail today, roughly 12 miles, to Tarpon Springs. This Greek community is well known for the Sponge Docks, where divers unload their harvest of sponges. Souvenirs, handmade soaps, local shops and cafe's abound. After you've had your fill you'll make your way back to the trail and head south. Wall Springs Park makes a good rest spot. You can see the clear springs at the park and explore on the trail which leads to an impressive observation tower. The mangroves hold many birds and other creatures. We've seen osprey, roseate spoonbill and many other shore birds here. Finish off the ride and you're back at our hotel.

Day 4

25 miles - Today we are VAGABONDS. We'll pack everything up this morning and hit the trail, biking 25 miles south to our downtown St. Petersburg hotel, where we will stay for 2 nights. Just hop on the Pinellas and keep riding until the end of the line! Our hotel in St Pete is about 2 blocks from Demen's Landing Park, the official end point of the Pinellas Trail. You'll have lots of excellent dining options tonight at the many open-air restaurants on nearby Beach Drive or Central Ave.

Day 5

18 miles - For our ride this morning we will bike 18 miles through several waterfront parks, riding past magnificent homes along the docks of Coffee Pot Bayou and quiet residential streets on Snell Island. The architecture and landscaping are a feast for the eyes! We'll be making a loop and returning back into the downtown area. This afternoon you are on your own to explore a museum or do some shopping of your choice, or visit area attractions. We'll share stories of your adventures tonight at happy hour!

Day 6

25 miles - Vagabonds again! Backtracking north now on the Pinellas Trail, we will have a planned stop at 17 miles, at Walsingham Park and Florida Botanical Gardens. Lunch is on your own at one of the nearby restaurants. The final 8 miles take us through Clearwater and into Dunedin. You're free to tack on more miles if you wish. Tonight we will celebrate our achievements and new friendships at happy hour, followed by dinner, included.

Day 7

Optional mileage - We do not have any scheduled activities this morning, but checkout is 11:00, so feel free to do more exploring. Thank you for a fun tour!
---
Difficulty Level: Intermediate
The trails on this tour are paved. The trails are suitable for all bicycles. The trails are mostly quite gentle and the riding is pretty easy.
Suggested bicycle: Touring bikes, road bikes, hybrids
Suggested tire size for this tour: 28mm – 37mm (or larger)
---
Pricing
$2190 per person (based on double occupancy)
$680 – Single Supplement (extra price to have your own room)
$100 – Bike Rental (helmet, bike bag and lock included)
---
Your Travel Plans
For this tour we meet people on Monday, February 7, 2021 at 5:00 pm at Holiday Inn Express & Suites Clearwater North/Dunedin.
Address: 975 Broadway, Dunedin, FL 34698 
Phone: (727) 450-1200
The trip ends on Saturday, February 13. 
If you are driving, there is free parking during our tour. 
---
Your Lodging Plans
Your night's lodging from Monday, February 7 through Friday, February 12 is included. Your night's lodging on the day the trip ends (Saturday, February 13) is not included. That night is at your expense and reservations for that night are your responsibility.
This form is currently unavailable. Try again later.