Ohio Vagabond 2023
This form stopped accepting submissions on June 18, 2023 5:00 pm EDT.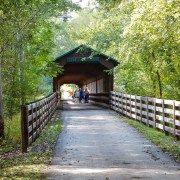 Our very fun Ohio "VAGABOND" tour takes riders on a trip around the western part of the state. Beginning and ending in Dayton, we will ride outstanding trails: Great Miami, Little Miami, Mad River, Creekside and Prairie Grass Trails. 
We'll be spending our first 3 nights in Dayton, then biking to Springfield for 2 nights, over to Cedarville for a night, then back to Dayton for our final ride together. 
We now meet for this tour in DAYTON, Ohio.
What is a Vagabond Tour? Think of it as going everywhere on your bike and having a SAG support van. We relocate to a different hotel several times on this trip, but you'll just ride your bike to the hotel, while we haul your luggage! Of course, the van is always available for any rider who needs a lift. 
Tour Leaders: Jack Pettry & Tony Palmer
Included
Approximately 185 miles of cycling over 6 days
6 overnight stays
7 breakfasts, 3 lunches, 2 dinners
Sag support
Admission to Frank Lloyd Wright's Westcott House
---
Itinerary
Day 0 - Sunday

Introductory meeting and dinner in Dayton. We will get acquainted with each other and outline our week of touring.

Day 1 - Monday

36 miles – Dayton to Tipp City, out and back on the Great Miami Trail. We'll bike right from the hotel, through the numerous parks around Dayton and on to the famous Great Miami Trail. Lunch is on your own in Tipp City. Either bike back to the hotel or get a lift in our van.

Day 2 - Tuesday

29 miles - Wright Brothers Special! For the morning ride, we will take the Great Miami Trail to the Wolf Creek Trail for a few miles, then double back to visit the Wright Brothers Cyclery and the museum, part of the National Park Service. After lunch we will bike to the National Museum of the US Air Force, where the Wright Brothers' inventions are on display. The museum is an incredible archive of airplanes and history of our Air Force. The ride back to our hotel is an easy 6 miles, so we can take a few hours here and absorb as much as we care to.

Day 3 - Wednesday

37 miles – Today we're VAGABONDS! We'll leave Dayton for a few days with a great ride east on the Mad River Trail to the Creekside Trail, which takes us to Xenia. At "the hub" in Xenia, a trailhead where 5 trails intersect, we will ride north on the Little Miami Trail. We'll pass through colorful Yellow Springs, where you might want to take a break, grab a brew or cup of coffee, then continue north to Springfield. It's a long day, so anyone who wants to can jump in the van at any point. Our bike route does take us right to our hotel, where we stay for the next 2 nights.

Day 4 - Thursday

30 miles – Bike from our hotel on the Little Miami Trail, north to Urbana. Find some lunch, see the sights, then bike back to the hotel. For some optional extra miles, bike over to Buck Creek State Park.

Day 6 - Friday

28 miles - Vagabonds again! We ride back along the Little Miami Scenic Trail from our Springfield hotel, then at Xenia, we'll take the Prairie Grass Trail east to Cedarville. Our small, independent hotel has the feel of a B&B and is located right on the trail, with Cedarville's cafes and shops are within walking distance. Or explore the quaint town and the campus of Cedarville University on a bike!

Day 7 - Saturday

28 miles – We bike back to Dayton today, using the Prairie Grass Trail, the Creekside Trail and the Mad River Trail. We will end the tour back at our opening hotel in Dayton. It's been a fine tour on the Ohio bike trails!
---
Difficulty Level: Intermediate
This tour's trails are all paved and suitable for all bicycles.
Suggested bicycle: Touring bikes, road bikes, hybrids
Suggested tire size for this tour: 28mm – 37mm 
---
Pricing
$2,475 per person (based on double occupancy)
$385 – Single Supplement (extra price to have your own room)
$150 – Bike Rental (helmet and bike bag included)
---
Your Travel Plans
For this tour we meet people at 5:00 pm on Sunday, June 18, 2023 at Fairfield Inn & Suites by Marriott Dayton. The trip ends on Saturday, June 24.
If you are driving you may leave your car parked there during our tour.
---
Your Lodging Plans
Your lodging from Sunday, June 18 through Friday, June 23 is included. Your night's lodging on the day the trip ends (Saturday, June 24) is not included. We expect to back at our starting hotel in Dayton by early afternoon on Saturday.  If you wish to stay overnight in Dayton, that night is at your expense and reservations are your responsibility.
Ohio Vagabond 2023
This form stopped accepting submissions on June 18, 2023 5:00 pm EDT.