Ocean State Beaches & Breezes Tour Summer 2023
This form stopped accepting submissions on July 15, 2023 5:00 pm EDT.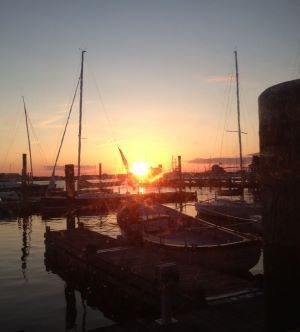 Coming Up Fast, Join Us!!
The smallest of the 50 states in geographic area, Rhode Island rightfully draws it's moniker "The Ocean State" from its 400 miles of coastline -- including the popular summer vacation spot of Block Island, where we'll spend a great day of cycling (via fast ferry from Newport).  All that water and coastline mean that even in July, cycling is a great way to enjoy the scenery and sights, while the vibrant seasonal business scene ensures that a place to grab a cold lemonade or some ice cream is never very far away.  And of course we'll consume plenty of fresh, delicious New England seafood from authentic local restaurants throughout the week!
We'll relocate only 3 times during the six days of this tour, spending our first two nights at the waterfront Hilton Garden Inn Providence at India Point on Narragansett Bay, then an evening at the stately bayside Bristol Harbor Inn, and finish with two nights at the Newport Beach Hotel & Suites, overlooking Newport's "First Beach", and just steps from the famous 3.5 mile "Cliff Walk" that showcases the natural beauty of Newport's shoreline with the architectural history of the city's Gilded Age. 
On Thursday we'll take the fast ferry from Newport Harbor out to Block Island to spend the day exploring and enjoying the sights by bike, returning in time for a delicious seafood dinner as we watch the sun set.
Tour Leaders: owner Ned Raynolds and Mike Hicks
Included
About 80 miles of riding over 4 days, with plenty of time for exploring, shopping, and taking in water views. This week leans a little bit toward a sightseeing vacation with your bike, vs. an intense week of Trail riding. We think it's the right formula for July!
5 nights lodging in 3 and 4 star accommodations
3 lunches, 2 dinners
Sag support, cold drinks & snacks, baggage transfer
Round trip tickets on the fast ferry from Newport Harbor to Block Island 
---
Itinerary
Day 0 - Sunday

Arrive in Providence, check in at 3:00 p.m. and gather in the lobby to get acquainted with each other. If you're renting a bike from us, look for us in the parking lot to get your assigned bike fitted and adjusted perfectly for you. After that we'll walk next door to the famous Narragansett Brewery to discuss our plans and expectations for the week over a Rhode Island native beverage and some dinner on their deck overlooking the bay.

Day 1 - Monday

28.6 miles -- We'll begin our week with a cycling tour of the southern 2/3 of the Blackstone River Valley National Heritage Corridor, known as the "Birthplace of the American Industrial Revolution," the place that ignited America's transformation from farm to factory. We'll van up to N. Uxbridge MA to Blackstone River & Canal Heritage State Park and ride back south, crossing eight bridges with beautiful views of the Blackstone River and Canal and including a stop to view the historic Millville Lock.
Once we cross back into Rhode Island, the trail from Woonsocket, RI, to Cumberland passes by four rolling dams, and takes us through the Blackstone River State Park with a stop at the Capt. Wilbur Kelly House & Transportation Museum in Lincoln. As we enter Pawtucket, home of the Old Slater Mill National Historic Landmark, we'll follow the designated Bike Route along city streets. Of the remaining 5 mile return route to our hotel, about half is on a separated bike path, and half on city streets.

Day 2 - Tuesday

15 miles -- Today we'll ride right out from our hotel following the gorgeous East Bay Bike Path south, enjoying water views half the time and straight to our luxurious accommodations at the Bristol Harbor Inn, in time to enjoy the afternoon relaxing on a deck overlooking the water or exploring the town. You can extend your morning by stopping and taking in some extra natural wonder at the Audubon Society Nature Preserve 3.3 miles north of town, or with a visit to Colt State Park, on the peninsula across Bristol Harbor from our hotel.

Day 3 - Wednesday

10 miles + ? On Wednesday we'll start by getting in the van for a quick 20 minute ride down to Sandy Point Beach on the east side of Aquidneck Island, which hosts the towns of Portsmouth, Middletown, and Newport. Then we'll saddle up and follow quiet country roads to explore the quiet side of the Island, which features farms, wineries, and a pick-your-own berry farm (side trip anyone?) . We'll work up an appetite taking in the salt air while circumnavigating the Sachuest Point National Wildlife Refuge jutting out where the Sakonnet River meets the Atlantic. After a few miles pedaling right along the ocean we'll slake our hunger and our thirst with an authentic New England seafood lunch at Flo's Clam Shack, overlooking First Beach and Easton Bay. After lunch we'll check into our hotel, and the afternoon is yours to explore downtown Newport by bicycle or on foot, or perhaps take in the famous Cliff Walk.

Day 4 - Thursday

16 miles – After breakfast we'll jump on our bikes for a short 1.5 mile ride along quiet streets and marked bike lanes on America's Cup Avenue to the high speed Ferry terminal at Perrotti Park on Newport Harbor. After a scenic hour's ride, we'll disembark in the town of New Shoreham on Block Island, and start our self-guided tour of the island. We'll pause for lunch at the classic "Dead Eye Dick's" -- of course, more authentic New England seafood! After lunch you can spend some time on the beach or on foot exploring the town, or even visiting the quixotic 6 acre Abrams Animal farm that features camels, kangaroos, emus and a yak. We'll catch the 5 pm ferry back to Newport, freshen up and then enjoy a waterfront dinner watching the sun set to celebrate our week.

Day 5 - Friday

12 miles -- To make sure you haven't missed any or Newport's spectacular vistas, after a quick breakfast we'll take a 12 mile loop ride from our hotel, down Bellevue Avenue past several of the Cliff Walk mansions to the water, then head west along the shore over to Brenton Point, back north past the Castle Hill Lighthouse and U.S. Coast Guard Station, and visit Fort Adams, a majestic 19th century fort at the mouth of Newport Harbor that now serves as the host of the annual Newport Jazz and Newport Folk Festivals. Then we'll cruise back over to our accommodations, check out and jump in the van for the hour's ride back to our starting hotel.
---
Difficulty Level: Intermediate Plus
This tour's trails and routes are almost all paved and suitable for all bicycles. On the mainland, there are substantial sections of on-road riding, most in marked bike lanes. On Block Island, all the riding is on-road, but bicycles are everywhere and traffic is slow. 
Suggested bicycle: Touring bikes, road bikes, hybrids
Suggested tire size for this tour: 28mm – 37mm 
---
Pricing
$2,750 per person (based on double occupancy)
$750 – Single Supplement (extra price to have your own room)
$150 – Bike Rental (helmet and bike bag included)
---
Your Travel Plans
Check-in at the Hilton Garden Inn at 4:00 pm on Sunday, July 16, 2023. The trip ends on Friday, July 21 upon our return to the Hilton Garden, after our morning ride around the peninsula. 
If you're driving to Providence, you'll have free parking at the Hilton Garden Inn during the remainder of our trip. TF Green Airport is served by Southwest (and many other airlines), and Providence's historic Union Station is also a stop on Amtrak's frequent Northeast Corridor service, and just 1.7 miles from the Hilton Garden Inn.
---
Your Lodging Plans
Five nights' lodging from Sunday, July 16 through Thursday, June 20 is included.  Lodging on the day the trip ends (Friday, June 21) is not included.  If you wish to stay longer in Newport or Providence on Friday or the whole weekend, that would be at your expense and reservations are your responsibility.
Ocean State Beaches & Breezes Tour Summer 2023
This form stopped accepting submissions on July 15, 2023 5:00 pm EDT.