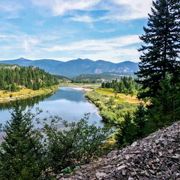 A NEW TOUR OUT WEST! 
Western Montana Trails - In the footsteps of Lewis & Clark
Come ride with us in beautiful Montana on world famous rail trails. We will follow the incredible journey of Lewis and Clark up the Bitterroot Valley, enjoying Lee Metcalf National Wildlife Refuge, and Travelers Rest State Park, an actual campsite of the expedition. Our second night will be surrounded by the beauty and seclusion of the Selway Bitteroot Wilderness. The third day we will return to Missoula and enjoy all this western town has to offer.  We will end our tour with spending two nights at Quinn's Hot Springs Resort after riding the Hiawatha and Olympian rail trails.
Our trails for this tour:
1. The Bitterroot Trail connects Missoula to points south and east in the Bitterroot Valley. We will ride this route to Lee Metcalf National Wildlife Refuge and Travelers Rest State Park.
2. The Route Of The Hiawatha is called "The Crown Jewel Of Rail Trails". It was inducted into the Rail Trail Conservancy's Hall of Fame in 2010. Ride 15 miles downhill through multiple tunnels and trestle bridges. This is one of the most spectacular bike trails to be found anywhere.
3. The Route of the Olympian Trail - The 31-mile long Route of the Olympian is one of several rail-trails occupying the former Pacific route of the Milwaukee Road, which originally connected the railroad's Wisconsin hub with Washington state—nearly 2,000 miles to the west. The trail directly links with the popular Route of the Hiawatha.
Tour Leaders: Jack Pettry and Maer Seibert, Missoula, Montana
Included
6 overnight stays
6 breakfasts
2 lunches
2 dinners
Mountain Bike Rental for the Route of the Hiawatha
Sag support and van shuttles
Shuttle back to Missoula opening hotel
---
Itinerary
Day 1

Meet at the Downtown Missoula Doubletree Hotel for introductions, cocktails and dinner on us.

Day 2

25-30 miles - Ride the Bitterroot Trail to Lee Metcalf National Wildlife Refuge and Travelers Rest State Park. Shuttle to the Lochsa Lodge.

Day 3

Enjoy cycling or hiking at Lolo Pass Recreation area before ending the day back at our downtown hotel in Missoula. We'll stay here for 2 nights.

Day 4

Layover day in Missoula. Visit The Smoke Jumper Base, The Elk Foundation, Farmers Market or cycle the bike path around town. Tonight we stay at the Doubletree.

Day 5

15 miles - Shuttle to bike the Trail of the Hiawatha. Tonight and tomorrow night we will be staying at Quinn's Hot Springs. You'll love it!

Day 6

31 miles - Today we bike the Route of the Olympian through the mountains and woods of Western Montana. After our ride we'll be back at Quinn's Hot Springs for our farewell dinner, on us!

Day 7

Enjoy the morning at Quinn's Hot Spring and shuttle back to our opening hotel in Missoula. Departing at 11:00am. End of our tour. It's been a fun week in the footsteps of Lewis & Clark!
---
Difficulty Level: Advanced
The Route of the Hiawatha Trail has a crushed stone surface. We will use rented mountain bikes on the Route of the Hiawatha due to its unpaved and sometimes rough surface. The Route of the Olympian Trail has a gravel surface and is best ridden on bikes with larger tires, such as mountain bikes, gravel bikes or hybrids. The Bitterroot Trail is paved with asphalt and concrete, and is suitable for all bicycles. 
We have categorized this tour as ADVANCED due to the hilly (in places) trails and the bike handling skills needed on the Hiawatha Trail, as it includes long tunnels, high trestle bridges and muddy sections on unpaved trails. 
Suggested bicycle: Touring bikes, hybrids or mountain bikes (bikes with larger tires are recommended). Road bikes are not suitable for this tour and will not be allowed.
NOTE: We will furnish you with a rented mountain bike for the Route of the Hiawatha. This is included with your tour price. 
eBikes: Only Class 1 eBikes are allowed on these trails. (pedal-assist only, no throttle)
Suggested tire size for this tour: 42 mm and larger
---
Pricing
$1920 per person (based on double occupancy)
$560 – Single Supplement (extra price to have your own room)
$100 – Bike Rental (helmet and bike bag included)
---
Your Travel Plans
For this tour we meet people on Wednesday, September 16, 2020 at 5:00 pm at the Downtown Missoula Doubletree Hotel.
The trip ends on Tuesday, September 22. We plan to be back in Missoula by early afternoon.
If you are flying, you fly in and out of Missoula International Airport. Our hotel has an airport shuttle.
If you are driving, meet us at our hotel. You can leave your car at hotel during our tour. 
---
Your Lodging Plans
Your 6 nights of lodging from Wednesday, September 16 through Monday, September 21 are included. We have made reservations for those nights. Your night's lodging on the day the trip ends (Tuesday, September 22) is not included. That night is at your expense and reservations for that night are your responsibility. We have not reserved any rooms for that night.