Michigan Trails 2 - 2020
This form is currently unavailable. Try again later.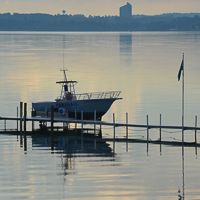 On the Michigan Bike Trails trip we ride a series of bike trails that begin in Grand Rapids in Western Michigan, travel west to Lake Michigan and then into North Michigan and Mackinac Island. This is a trip with water views every single day – lakes, bays, rivers, ponds. Some views are serene, some stunning, all speak of Michigan's natural beauty. All trails except the North Central State Trail are paved. That trail is crushed limestone. 
Tour Leaders: Mark Troy and Jack Pettry
Included
8 nights lodging
3 dinners, 3 lunches, 6 breakfasts
sag support
ferry tickets to and from Mackinac Island
---
Itinerary
Day 1

Meet riders in Grand Rapids for our introductory meeting and dinner.

Day 2

26 miles – We will van to the White Pine trail and ride it from the small village of Sand Lake back to Grand Rapids. Along the way we'll stop to eat lunch out in Rockford. Rockford sits beside the Rogue River and is chock full of eateries and ice cream shops. We'll connect to the Grand River Edges trail in Grand Rapids and ride it beside the river to our pickup point.

Day 3

39 miles – We'll van to the start of the Musketawa Trail as it leaves the Grand Rapids area. We'll bike west on the trail stopping in Ravenna for a picnic lunch. Then we'll bike to our night's lodging on Lake Michigan in Muskegon via the Laketon and Muskegon Lakeshore trails. There is a restaurant right beside our hotel on the waterfront.

Day 4

37 miles – We'll load up bikes for a short van ride to start the Berry Junction trail. It connects to the White Lake Pathway to travel through Whitehall. Leaving Whitehall we ride the Hart-Montague trail and pass through the Manistee National Forest before reaching our picnic lunch spot in Rothbury. We'll finish the trail at Hart, where we will spend the night.

Day 5

26 miles – We have a morning van ride to Sutton's Bay. We'll eat lunch in Sutton's Bay before biking. In the afternoon we ride the Leelanau Trail through the countryside to connect with the TART trail at Traverse City. We bike to our night's lodging in downtown Traverse City. You can choose to bike local trails or just wander the downtown area. For dinner several excellent restaurants are within walking distance of our hotel.

Day 6

Optional mileage – We van to Sleeping Bear Dunes National Lakeshore to spend the morning. We will enjoy a tour of the park and return to Traverse City to spend the night. Option: Stay in Traverse City for the day on your own and explore by bike.

Day 7

35 miles – We get back on the trail as it goes east along the banks of Mullet Lake and then turns north at Cheboygan. We'll have a picnic lunch at the Cheboygan trailhead. The ride north from there to Mackinaw City is through pine woods with occasional brief glimpses of Lake Huron. We bike to our night's lodging in Mackinaw City.

Day 8

Optional mileage – We bike and take the ferry for the 16 minute ride to Mackinac Island. It's 8.5 miles on the road that circles the island and there are other routes that go inland, up and over the island's hilly center. The traffic here is horse drawn, foot traffic, and cyclists. NO CARS!

Day 9

29 miles – We van over to Harbor Springs to ride the Little Traverse Wheelway along the Lake Michigan shore down to Charlevoix. At Petoskey we take a short side trail along the base of the steep ravine of the Bear River Rapids, a popular paddle sport location. And Petoskey has a variety of eateries and at least one chocolate shop. We will pick people up at the trailhead in Charlevoix, then we pile in the van and drive back to our opening hotel in Grand Rapids.
---
Difficulty Level: Intermediate
This tour's trails are all paved except for the North Central Trail, which is crushed stone. It is quite smooth and suitable for all bicycles. Larger tires will help to provide more stability, however.
Suggested bicycle: Touring bikes, road bikes, hybrids
Suggested tire size for this tour: 28mm – 37mm (or larger)
---
Pricing
$2190 per person (based on double occupancy)
$660 – Single Supplement (extra price to have your own room)
$100 – Bike Rental (helmet, bike bag and lock included)
---
Your Travel Plans
For this tour we meet people on Saturday, July 25, 2020 at 5:00 pm at Hampton Inn and Suites Grand Rapids – Airport
Address: 5200 28th St SE, Grand Rapids, MI 49512 
Phone: 616-575-0144.
The trip ends on Sunday, August 2nd. We plan to be back at the Grand Rapids hotel around 6:30 pm. These times can be impacted by traffic issues and so are not guaranteed.
If you are flying, you fly in and out of the Gerald R. Ford International Airport Grand Rapids. There is free shuttle transportation to the Hampton Inn and Suites Grand Rapids Airport, 28th St.  Call the hotel at 616-575-9144 when you arrive to arrange for pickup.
If you are driving, meet us at the hotel. You can leave your car parked here during our tour. There is a fee for parking. Please see hotel staff for details.
---
Your Lodging Plans
Your lodging from Saturday July 25 through Saturday August 1 is included. Your night's lodging on the day the trip ends (Sunday, August 2) is not included. That night is at your expense and reservations for that night are your responsibility.
This form is currently unavailable. Try again later.