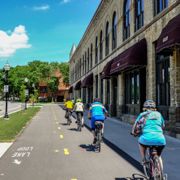 Wisconsin! Farms, red barns, forests, rivers… and CHEESE! On our REVISED Wisconsin Bike Trails trip we'll ride a series of bike trails that begin in Madison. We'll bike the Capital City Trail, the Badger State Trail, a selection of the Military Ridge Trail plus some very fun urban trails in the beautiful city of Madison. We'll visit State Street and get views of the Capitol. We'll have options for a day off, with walking, boating or more biking. And we hope to sample fine brews at the New Glarus Brewery!
HUB TOUR! Like all of our HUB trips, we will stay at the same hotel for all 5 nights of the tour, making it more relaxed than ever. 
Included
5 nights lodging
2 dinners, 1 lunch, 5 breakfasts
free parking
sag support
bike trail passes for the trails we ride
---
Itinerary
Day 1

Meet riders in Madison for our introductory meeting and social hour.

Day 2

23 miles – We begin our tour by cycling several of Madison's urban trail to reach the Military Ridge State Trail. We'll be on paved trails in Madison then change over to crushed limestone for the Military Ridge Trail. Our route takes us to Mount Horeb, a fun little town that's known as the Troll Capital of the World! Lunch on your own at one of several cafe's or at the brew pub. You have the option to van back or bike back to our Madison hotel, making it a 46 mile day, including the return trip.

Day 3

We have included this "rest day" in order for you to have time to see some of the sights of the Capital City. Tour the downtown or rent a kayak or canoe. Or if you have your own transportation, take a day trip to one of many area attractions.

Day 4

38 miles – Biking again from our hotel, we will use Madison's urban trail system to reach the Badger State Trail. We'll enjoy lunch at Belleville, then turn around and head back to Madison. We had designed this day to end in New Glarus, in order to see the brewery there, and have snacks and refreshments. If we can't do that, why not have a Spotted Cow Lager at happy hour instead?

Day 5

30 miles - Today we stay in the greater Madison area and bike many of the local trails and bike paths. Included are the Capital City Trail, the Southwest Path and a mix of path and residential streets on the city's popular Lake Loop. Along the way we plan to have lunch downtown on State Street. You'll understand why Madison is known as a bike-friendly place after today!

Day 6

Optional mileage - Today we don't have any scheduled bike rides but checkout time is not until 11:00. You might want to retrace some of our previous rides or explore one of the nearby parks on Lake Monona. We'll say goodbye for now; It's been a fun tour in Wisconsin!
---
Difficulty Level: Intermediate
Wisconsin's State trails are mostly crushed rock and are quite smooth. The trails are suitable for all bicycles. Madison's urban trails are all paved.
Suggested bicycle: Touring bikes, road bikes, hybrids
Suggested tire size for this tour: 28mm – 37mm (or larger)
---
Pricing
$1760 per person (based on double occupancy)
$570 – Single Supplement (extra price to have your own room)
$120 – Bike Rental (helmet, bike bag and lock included)
---
Your Travel Plans
For this tour we meet people on Sunday, June 26, 2022 at 5:00 pm at Hotel Indigo Madison Downtown.
Address: 901 E Washington, Madison, WI  53703 
The trip ends on Thursday, July 1. 
If you are flying, you fly in and out of the Dane County Regional Airport, 4000 International Ln., Madison WI 53704.
There is shuttle transportation to our hotel. Call the hotel at (608) 256-0061 when you arrive to arrange for pickup.
If you are driving, meet us at the hotel. Tour pricing includes car parking during our tour. 
---
Your Lodging Plans
Your 5 nights of lodging during our tour is included. Your night's lodging on the day the trip ends (Friday, July 1) is not included. That night is at your expense and reservations for that night are your responsibility.