Idaho & Washington Trails 1 2020
This form stopped accepting submissions on August 31, 2020 5:00 pm MDT.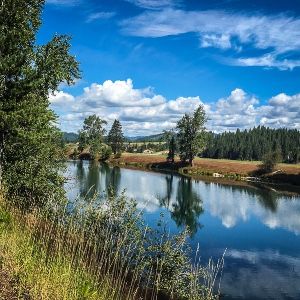 ANOTHER GREAT TOUR OUT WEST! 
Northern Idaho and Washington Trails
For this excellent tour we will be riding 3 of the Northwest's best trails. Featuring spectacular scenery through forests and meadows, mountain views, rivers and lakes, trestle bridges and tunnels. Our routes combine these well-known trails into one fine adventure. 
Our trails for this tour:
1. The Spokane and Northern Idaho Centennial Trail winds it's way from Riverside state park, along the Spokane River through Spokane, Washington and ends up 56 miles later at Higgins point east of Coeur d'Alenes, Idaho.
2. The Route Of The Hiawatha is called "The Crown Jewel Of Rail Trails". It was inducted into the Rail Trail Conservancy's Hall of Fame in 2010. Ride 15 miles downhill through multiple tunnels and trestle bridges. 
3. The Trail Of The Coeur d'Alenes was also added to the Hall of Fame in 2010. 72 miles downhill from Mullen, Idaho to Plummer, Idaho. You will be cycling through the Silver Valley, one of the richest silver finds in the world. Be sure to spend some time in the towns of Wallace and Kellogg. 
This tour is a definite GO, so don't wait, sign up today!
Tour Leaders: Jack Pettry and Maer Seibert, Missoula, Montana
Included
5 overnight stays
5 breakfasts
2 lunches
2 dinners
Sag support and van shuttles
Shuttle back to Spokane opening hotel
---
Itinerary
Day 1

We all meet at the Spokane, Washington Airport Holiday Inn Express for introductions, cocktails, followed by dinner on us.

Day 2

25 miles - We begin the day with a short 12 mile shuttle to Riverside State Park. Lunch is on your own in Spokane. Next we will bike to the Hampton Inn in East Spokane. Total milage- 25.5 miles. Dinner tonight is on your own but we'll shuttle for your convenience.

Day 3

22/31 miles - Today we will bike right from the hotel and back onto the trail, riding to Higgins Point. Lunch is on your own in Post Falls, Idaho. The day's ride is 31 miles unless you want to stop 9 miles early. We go right by our hotel. If not, we will shuttle you back to the Hampton Inn in Coeur d'Alenes, where we spend the night. Dinner choices are close and on your own.

Day 4

15 miles - Today we have our longest shuttle of the tour, 70 miles to The Route Of The Hiawatha. Sitting just inside the Montana border on top of Lookout Pass, you immediately ride into a 1.7 mile tunnel. Be sure to bring your headlamps! This trail features some of the most spectacular mountain scenery you'll find anywhere. After your 15 mile downhill bike ride, a shuttle will be provided to bring you back to the trailhead. We will have a picnic lunch waiting. Then we'll shuttle 32 miles back to Kellogg, where we are staying two nights at the Silver Mountain Resort. Dinner is on your own.

Day 5

38 miles - A short 20-mile shuttle to Mullen, Idaho, where we'll begin the Trail of the Coeur d'Alenes. Be sure to have a look around Wallace, Idaho. Very interesting mining history. Lunch will be on your own in Kellogg. Total milage today is 38, stopping at Rose Lake and shuttle back to Catalgo to visit Old Mission State Park. From there it is a short 11 mile drive back to Kellogg for dinner on us.

Day 6

34 miles - We shuttle back to Rose Lake to continue cycling on to Plummer. We will provide a picnic lunch in Springston. The day ends with our 50-mile shuttle back to the Airport Holiday Inn Express in Spokane where we began our adventure. That will conclude the Trails of Northern Idaho and Washington Tour.
---
Difficulty Level: Advanced
The Centennial Trail and the Trail of the Couer d'Alene are paved bike paths. The Route of the Hiawatha has a crushed stone surface. We will use rented mountain bikes on the Route of the Hiawatha due to its unpaved and sometimes rough surface.
We have categorized this tour as ADVANCED due to the hilly (in places) trails and the bike handling skills needed on the Hiawatha Trail, as it includes long tunnels, high trestle bridges and muddy sections. 
Suggested bicycle: Touring bikes, hybrids or mountain bikes (bikes with larger tires are recommended). Road bikes are not suitable for this tour and will not be allowed.
Suggested tire size for this tour: 35 mm and larger
---
Pricing
$1770 per person (based on double occupancy)
$375 – Single Supplement (extra price to have your own room)
$100 – Bike Rental (helmet and bike bag included)
---
Your Travel Plans
For this tour we meet people on Monday, August 31, 2020 at 5:00 pm at our Spokane airport hotel.
The trip ends on Saturday, September 5. We plan to be back in Spokane by late afternoon.
If you are flying, you fly in and out of Spokane International Airport. Our hotel has an airport shuttle.
If you are driving, meet us at our hotel. You can leave your car at hotel during our tour. There may be a fee for this.
---
Your Lodging Plans
Your 5 nights of lodging from Monday, August 31 through Friday, September 4 are included. We have made reservations for those nights. Your night's lodging on the day the trip ends (Saturday, September 5) is not included. That night is at your expense and reservations for that night are your responsibility. We have not reserved any rooms for that night.
This form stopped accepting submissions on August 31, 2020 5:00 pm MDT.