Hudson Valley - Saratoga Springs to West Point #1 *Private Event*
This form is currently unavailable. Try again later.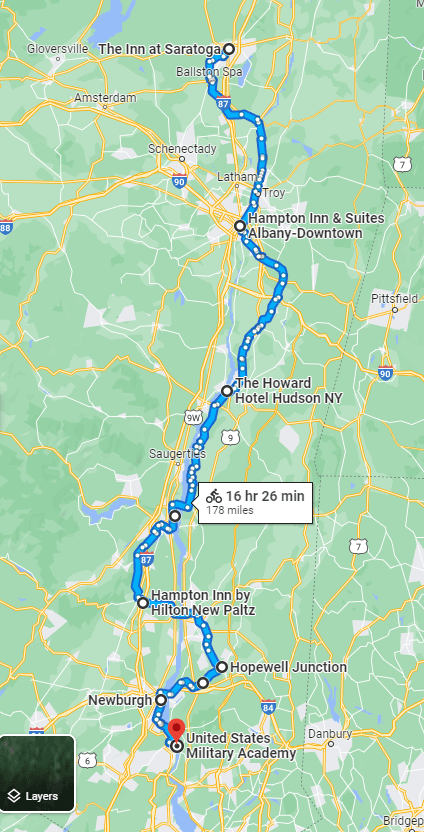 Cycle Route with evening layovers
New York's Hudson River Valley is a beautiful and dramatic region rich in history, arts and culture. When fall foliage transforms the hills and valleys framing the majestic river into mosaics of red, yellow, orange, and gold, the landscape is breathtaking. The Empire State also has one of the best paved rail-trail networks in the country. This tour will traverse well over 100 miles of them as we explore farmland, forests, and wetlands, crossing the Hudson four times including on several spectacular bridges that endure as engineering marvels of their day. The tour starts and ends in Saratoga Springs, known for world-class horse racing, renowned performing arts and natural springs spas, plus 13 golf courses, 10 museums, a historic battlefield, fabulous boutiques, antiques and restaurants; you might want to come early or stay for the weekend after the Tour! Along the way we'll stay overnight in the state capital of Albany, the quaint villages of Hudson and Fishkill, and the town of New Paltz.  We'll visit wineries, breweries, farmstands, and ice cream shops, stay in historic inns and B&Bs, and enjoy some fabulous cuisine. We finish up with a quick tour of the U.S. Military Academy at West Point, founded in 1802. Check out the detailed day-by-day itinerary below.
Tour Leaders: owner Ned Raynolds and Mike Hicks
Included
About 177 miles of riding over 5 days
5 nights lodging in 3 and 4 star accommodations including 3 nights in charming local inns/B&Bs, 2 nights in Hampton Inns (Albany & New Paltz). 
5 breakfasts, 3 lunches, 3 dinners
Sag support, cold drinks & snacks, baggage transfer
---
Itinerary
Day 1 - Sunday

Arrive in Saratoga Springs where we'll begin; our first night's lodging is at the historic Inn at Saratoga, steeped in Victorian charm and rich with local history. Check-in is at 3 p.m. Take some time to explore the village a bit but be back in time for our get-acquainted meeting at 5 p.m., perhaps with drinks in the Tavern.

Day 2 - Monday

41 miles -- We'll make our way out of Saratoga Springs to Ballston Spa via mix of paved bike paths and local roads. At Ballston Spa we'll pick up the Zim Smith Mid-County Trail for 11.5 miles down to the outskirts of Mechanicsville, on the Hudson River. Then we'll head south toward Albany, connecting with the Champlain Canalway Trail into Waterford, where the Mohawk River meets the Hudson, and the eastern terminus of the Erie Canal. After a rest stop to check out some of the historical markers, we'll follow the Empire State Trail, much of it right along the banks of the Hudson, into downtown Albany for our first night's rest. Dinner is on your own at one of many restaurants or breweries within walking distance.

Day 3 - Tuesday

39 mi. -- Today we'll ride right out from our hotel, make our way over the Hudson River on marked bike paths, and jump on the Albany-Hudson Electric Trail. The AHET follows a 36-mile course through the former Albany-Hudson Electric Trolley corridor from Hudson to Rensselaer. The electric trolley ran for 30 years before closing in 1929. The corridor is now owned by National Grid, who gave permission to the Hudson River Valley Greenway to construct and maintain the trail. The journey includes passage through Hudson Valley's farmlands and orchards, access to a handful of charming communities in Rensselaer and Columbia Counties, and multiple crossings of the Valatie Kill, a picturesque stream. We'll ride right to our charming and historic boutique hotel The Howard Hotel, with some time to relax and explore the town before enjoying dinner, included, at the adjoining Ca'Mea Ristorante.

Day 4 - Wednesday

48 mi. This is the peak ride of the week -- 48 total miles south from Hudson to New Paltz, 2/3 of it on-road following the NY State-designated Empire State Bike Trail. We'll make an early stop just 5 miles into our ride at the Olana Historic Site, and then continue along the quiet state road that parallels the Hudson for a visit to the Clermont Vineyards & Winery. We'll continue south and then cross high above the Hudson on the Kingston-Rhinecliff Bridge to head into Kingston for a waterfront lunch, followed by some browsing in the Hudson River Maritime Museum. When we're ready we'll saddle up and push on to our lodging for the evening, the Hampton Inn New Paltz, with our last 14.5 miles on the Walkill Valley Rail Trail. Dinner is on your own this evening with a wide range of restaurants to choose from in downtown New Paltz.

Day 5 - Thursday

26.1 miles - Only a marathon's distance will feel like a piece of cake after yesterday's 48 miler! We'll ride east from our hotel on the Empire State Trail, crossing the spectacular Walkway Over the Hudson, a steel cantilever bridge spanning the river between Poughkeepsie on the east and Highland on the west. Built as a double track railroad bridge, it was completed in 1889 and formed part of the Maybrook Railroad Line of the New York, New Haven and Hartford Railroad. Taken out of service in 1974 after it was damaged by fire, It was listed on the National Register of Historic Places in 1979 and designated as a National Historic Civil Engineering Landmark by the American Society of Civil Engineers in 2009. It was reopened on October 3, 2009, as a pedestrian walkway - the world's longest elevated pedestrian bridge (bikes are allowed too :)). In Poughkeepsie we'll pick up the William R. Steinhaus Duchess Rail Trail for 13.1 miles of smooth, paved riding into Hopewell Junction. Then we'll follow NY Rt. 82 for 4.6 miles to our night's lodging at the historic, luxurious Brinckerhoff Inn in Fishkill, where we'll enjoy a barbecue dinner by the outdoor pool.

Day 6 - Friday

23.3 miles. On our last day we'll be only on local roads as we once again cross the Hudson (this time alongside 1-84 on the Newburgh-Beacon Bridge Pedestrian & Bike Trail) and then head south along the riverfront through Newburgh, Cornwall-on-Hudson and Storm King State Park before arriving at the U.S. Military Academy at West Point. We'll take a brief tour, get some lunch, and then pile into the van for our ride back up to Saratoga Springs (a 2:15 ride).
---
Difficulty Level: Advanced
Due to the distances of several days and the substantial amount of on-road riding in this tour, it's rated Advanced. You must be comfortable with riding on the shoulder and able to tackle moderate elevation changes, all as part of the distances involved.  NOTE: While Senior Cycling does not yet rent E-bikes, your own E-bikes are welcome on the Tour, and as always, the Senior Cycling support van is always close by and is available if you've reached your cycling limit for the day!
Suggested bicycle: Touring bikes, road bikes, hybrids
Suggested tire size for this tour: 25mm – 35mm 
---
Pricing
$2,550 per person (based on double occupancy)
$525 – Single Supplement (extra price to have your own room)
$150 – Bike Rental (helmet and bike bag included)
---
Your Travel Plans
Check-in at the Inn at Saratoga as early as 3:00 pm on Sunday, Oct. 1st or 8th 2023. The trip ends on Friday, Oct. 6th or 13th upon our return to Saratoga.
If you're driving to Saratoga, we'll have to make arrangements for your car while we're on the ride. Albany International Airport, just 26.5 miles south of Saratoga Springs, is served by United, American, Delta, Southwest, JetBlue, and Allegiant. Saratoga Springs is also served by Amtrak from NY's Penn Station.
---
Your Lodging Plans
Five nights' lodging from Sunday through Thursday, either Oct 1 - 5 or 8 - 13 is included.  Lodging on the day the trips end (Friday, Oct. 6 or 13) is not included.  If you wish to stay longer in Saratoga Springs on Friday or the whole weekend (or to come for the weekend prior), that would be at your expense and reservations are your responsibility.