Great Allegheny Passage 1 - Spring 2021
This form stopped accepting submissions on May 29, 2021 6:00 pm EDT.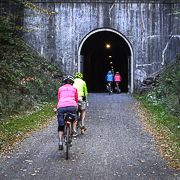 This tour is currently sold out.  JOIN THE WAITLIST
We consider this trail to be one of the most beautiful and spectacular rail trails in the entire country. We bike 150 miles from Pittsburgh, Pennsylvania to Cumberland, Maryland. The grade is gentle because this is a rail trail. Our route allows us to bicycle directly to each of our overnight stays. At the end of the trail we van back from Cumberland to our opening hotel in Pittsburgh.
On this trip we will take a tour of Frank Lloyd Wright's masterpiece, Fallingwater, included in the tour price. 
As we ride on the trail, leaving Pittsburgh, we pass remnants of giant steel mills. As the miles go by we slowly leave behind the industrialized areas and enter quiet woodlands and deep forests. We travel through tunnels, over bridges and viaducts, including the Salisbury Viaduct 1908 feet long, through the Savage Tunnel, 3294 feet long on an easy stone dust surface. The final day is a treat with the last 22 miles down hill to Cumberland. This is a very scenic and fun tour!
Tour Leaders: Mark Troy and Alan Brown 
Included
150 miles of bicycling
5 nights lodging
2 dinners, 3 lunches, 3 breakfasts
sag support
Itinerary
Day 1

Meet riders in Pittsburgh for our introductory meeting and dinner.

Day 2

35 miles – Downtown Pittsburgh's Point State Park is our starting point. It's also the western terminus of the Great Allegheny Passage Trail. West Newton is our day's destination.

Day 3

25 miles – We'll get a relaxed start today from our B&B. We'll cycle the beautiful trail and end our ride in Connellsville, where we spend the night.

Day 4

27 miles - Today we will get started early with a gorgeous 17-mile bike ride from Connellsville to Ohiopyle. After lunch we'll have a guided tour of Fallingwater, Frank Lloyd Wright's masterpiece. A short 10-mile ride in the afternoon takes us right to our lodging at B&B's in Confluence.

Day 5

32 miles – We bike from Confluence to Meyersdale. We'll provide a picnic lunch in Rockwood. The afternoon ride includes the amazing Salisbury Viaduct, then on to Meyersdale, where we spend our last night of the tour. Our hosts will serve us a delicious dinner tonight.

Day 6

32 miles – You will cross the Eastern Continental Divide, ride through the 3,295-foot Savage tunnel and emerge to find a picnic area with a view of the surrounding hills and valleys. The trail finishes with a gentle and rewarding 22 mile downhill into Cumberland. After a quick lunch we will drive everyone back to our opening hotel in Pittsburgh. Some riders have continued on the C&O Canal Trail from this point to Washington DC, but we do not offer this as a tour.
Difficulty Level: Intermediate
This tour's trail is crushed stone. It is quite smooth and suitable for all bicycles. Larger tires will help to provide more stability, however.
Suggested bicycle: Touring bikes, road bikes, hybrids
Suggested tire size for this tour: 28mm – 37mm (or larger)
---
Pricing
$1740 per person (based on double occupancy)
$550 – Single Supplement (extra price to have your own room)
$100 – Bike Rental (helmet and bike bag included)
---
Your Travel Plans
For this tour we meet riders at our downtown Pittsburgh hotel, 5:00 pm on Saturday, May 29th, 2021. The trip ends on Thursday, June 3rd. We plan to be back at the hotel by 6:00 PM but we cannot guarantee arrival time since traffic delays are always possible.
If you are driving, you drive to the hotel. You may leave your car there during the trip. Note: there is a $20 fee per day we are gone for leaving your car parked at the hotel.
If you are flying, take Uber or taxi to our hotel. 
Note: Some riders have parked their car in Cumberland, then traveled to Pittsburgh for our tour. At the end of the tour their car is waiting for them.   A large public parking lot sits at the end point of our tour (Visitors Center for the C&O Canal). Also nearby is the Amtrak station, less than one mile away. And in Pittsburgh the Amtrak station is about 6 blocks from our hotel. Other riders have said goodbye to us in Cumberland and continued on their own, riding on the C&O Canal to Washington DC, about 185 miles away. We will do our best to accommodate your specific needs.
---
Your Lodging Plans
Your night's lodging on Saturday, May 29, 2021 through Wednesday, June 2 is included. Your night's lodging on the day the trip ends (Thursday, June 3) is not included. That night is at your expense and reservations for that night are your responsibility.
This form stopped accepting submissions on May 29, 2021 6:00 pm EDT.