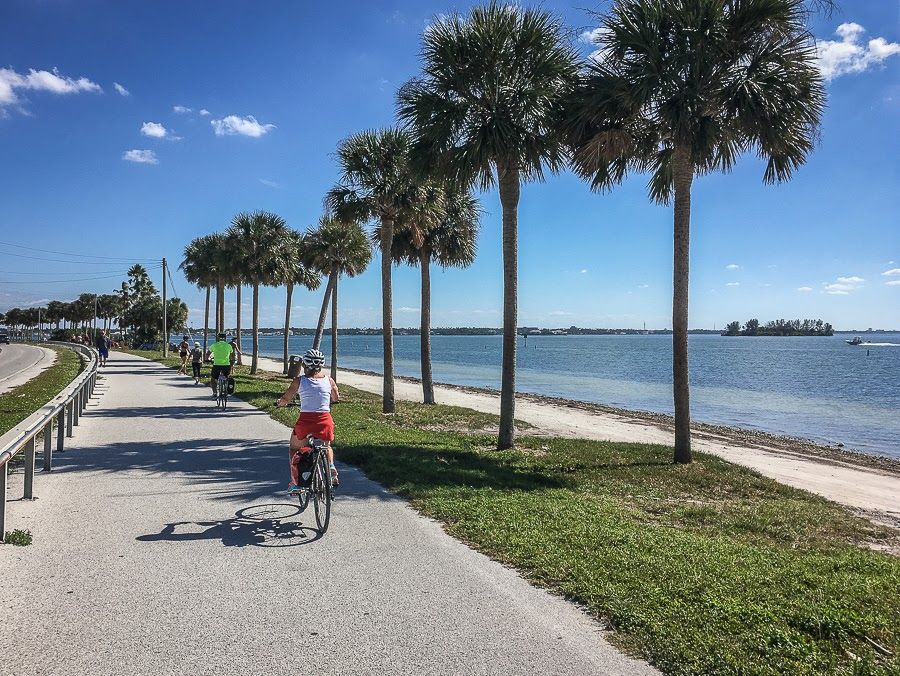 You asked for more Florida sunshine -- and being based in New Hampshire, we get it!  Senior Cycling is there with another peak season tour that will take you on several of Florida's best Rail Trails.
Beginning in Tampa and spending our last night in fun downtown St. Petersburg, on this tour we'll bike the General James A. Van Fleet trail, the Withlacoochee State Trail and the Pinellas Trail. Extra rides will include the Dunedin Causeway Trail and Coffee Pot Bayou Trail in St. Petersburg. 
Plenty of sun & sand, great dining opportunities, wonderful wildlife viewing and browsing local arts and culture are included! 
Included
5 nights lodging
2 dinners, 2 lunches and 5 breakfasts
Full sag support and luggage hauling
Sweep rider support
Daily social hour and map meeting with daily cue sheets
---
Itinerary
Day 1

Tampa – We meet at 5:00 PM at our airport hotel for our introductory meeting followed by dinner nearby. This is a time to get acquainted and learn about our upcoming adventure.

Day 2

29 miles – We ride the General James A. Van Fleet Trail, a wilderness trail through the Green Swamp. We picnic at a trailhead along the way. Keep your eyes open for wildlife! In past visits we have seen alligators, otters, and many species of birds. This trail is outstanding, too. It's very flat and all paved!

Day 3

41 miles – The Withlacoochee State Trail from Dunnellon to Trilby Junction. This just has to be one of the very best trails in the country. At lunchtime you're on your own in Inverness. This amazing trail takes you on a journey through wilderness forests draped in Spanish moss, through swamps, past lakes, along rivers, horse farms, and the towns of Floral City and Inverness.

Day 4

35 miles – Van ride to John Chesnut Sr. Park and ride the northern section of the Pinellas Trail, with a lunch stop in Tarpon Springs. You'll love the Greek food and the famous Sponge Docks! Then we continue on the Pinellas Trail and bike right to our nights lodging in Dunedin.

Day 5

26 miles – Today we ride the urban Pinellas Trail from Dunedin to downtown St. Petersburg, where we'll bike right to our hotel. We're staying in the heart of downtown St. Pete, so you'll be able to walk or bike to any number of establishments and celebrate our week of adventures together. Anyone wanting more mileage has many options available.
The Pinellas Trail is a Rail Trail Hall of Fame Award winner. After riding it you'll understand why!

Day 6

Enjoy a leisurely breakfast in downtown St. Petersburg or jump on your bike for a short ride up the North Bay Trail to the Coffeepot Bayou and back. Mid-morning we will pack up and van you back to our beginning Rocky Point / Tampa hotel and say farewell.
---
Pricing
$2,550 per person (based on double occupancy)
$600 – Single Supplement (extra price to have your own room)
$150 – Bike Rental (helmet and bike bag included)
50% of the total is a required deposit due upon registration.
The remainder is due 45 days prior to departure date.
Cancellation details: If you cancel more than 45 days prior to departure date, you will receive a 90% refund.
If you cancel less than 30 days prior to departure date no refunds will be given.
Please purchase trip insurance. We trust Allianz Travel Insurance. CLICK HERE to visit their website.
---
Your Travel Plans
If you are flying, you fly into Tampa International Airport.  
If you are driving we meet you at our Tampa hotel and return you there at the end of the trip.
---
Your Lodging Plans
For this tour the 5 nights lodging from Sunday, March 5 through Thursday night, March 9 is included, with the tour concluding mid-day Friday.  This tour has been scheduled this way to keep the cost as low as possible, as March is peak demand season in Floriday due to MLB Spring Training, college spring breaks, etc.  If you want to stay anywhere in Florida either the weekend prior or following this trip, you should make your own reservations ASAP! 
---
Non-Standard Bikes
If you plan to bring your own bike and it is a non-standard bike such as a recumbent, e-bike or tandem, you will need to discuss transport issues with me before you register for this trip. We may or may not be able to accommodate.
Bike rental is available at $150 for this trip and this amount is due with your final payment. A helmet and bike bag are included with bike rental.