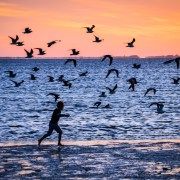 Florida Gulf Beaches Fall - 2021
This form is currently unavailable. Try again later.
Water, water, water! Beaches, sun, excellent food and fantastic bike trails! Join us for an intensive and oh, so beautiful tour of Pinellas County, Florida, where cycling is big! You'll bike over bridges (although, not as many as the Florida Keys) to Tampa, along causeways and over a spectacular arch to the dazzling white sand beaches of Clearwater Beach. Better bring a new card for your camera!
Over the course of 6 days, and on all paved bike trails, you will basically ride the perimeter of the entire county. We'll be in places like Safety Harbor, downtown St. Petersburg, Clearwater Beach, Dunedin, Tarpon Springs - and more! So take a break from winter and come join us for a fine, fun time in the sun!
Start and end: Tampa, Florida
Tour Leaders: Colleen and Mark Troy
Included
approximately 125 miles of cycling (more or less, depending on your needs)
6 nights lodging
6 breakfasts, 1 lunch, 2 dinners
daily map meeting and happy hour
sag support
---
Itinerary
Day 1

Meet at the Holiday Inn Express & Suites Rocky Point, Tampa, where we'll gather for our introductory meeting followed by dinner. Dining and cycling options are within easy walking distance of the hotel.

Day 2

26 miles – Bike from our hotel west across Old Tampa Bay on the Courtney Campbell Causeway Trail to the quaint town of Safety Harbor where we will have lunch. For the afternoon ride we will bike on several trails that take us across the peninsula and over the beautiful Clearwater Bay Bridge into Clearwater Beach. A beautiful ride!

Day 3

Optional mileage. Spend a play day at Clearwater Beach. Put up the beach umbrella and read a book, take a nap, ride your bike… the day is yours to explore the area. Points of interest include the Clearwater Marine Aquarium, Sand Key Park and much more.

Day 4

27 miles – with options for more or less mileage. Bike roughly half of the award-winning Pinellas Trail today, from Clearwater Beach to downtown St Petersburg. Optional extra cycling mileage is available on bike paths and dedicated bike lanes.

Day 5

Flex day in downtown St. Petersburg. Today is yours to take in the many points of interest to be found in this beautiful, vibrant city. Several art museums are within walking distance from our hotel, including the Dali Museum, The Museum of Fine Arts and the Chihuly Collection. Or, if you'd rather hop back on the bike, we can point you to several fine routes. Plenty of shopping and dining options surround our hotel. This will be a fun day!

Day 6

25 miles – with options for more or less mileage. Bike back to the Pinellas Trail and ride it north to Dunedin. Our hotel is right on the bike trail! We will be toasting our week of adventure tonight at happy hour and included dinner!

Day 7

23 miles – This morning we will bike right back to our Rocky Point - Tampa hotel, where we began our adventure, riding the same bike paths we rode on our first day of riding. You'll leave with fine memories, new friends, and a keen understanding of Pinellas County, Florida. It's been a great tour!
---
Difficulty Level: Intermediate
This tour's trails are all paved, and we are exclusively riding on paved bike paths for the entire tour. Riders should have good bike handling skills as we are on and off the bikes frequently in order to cross trail and road intersections.  
Suggested bicycle: Touring bikes, road bikes, hybrids
Suggested tire size for this tour: 23mm – 37mm (pretty much any size you like!)
---
Pricing
$1990 per person (based on double occupancy)
$550 – Single Supplement (extra price to have your own room)
$100 – Bike Rental (helmet and bike bag included)
---
Your Travel Plans
Tuesday, November 2nd, 2021 we meet at the Holiday Inn & Suites Express / Rocky Point Tampa, 3025 N Rocky Point Dr E, Tampa, FL 33607.
Phone: (813) 287-8585
The trip ends on Monday, November 8. We plan to be back at the hotel by 12:00 PM. 
If you are driving, meet us at the hotel. You may leave your car there during the trip. Note: there may be a fee for leaving your car. Please notify hotel staff of your parking needs upon arrival.
If you are flying, use Tampa International Airport. Our hotel has normally included a courtesy airport shuttle. Check with the hotel for confirmation and details.
---
Your Lodging Plans
Your night's lodging on Tuesday, November 2 through Sunday, November 7 is included. Your night's lodging on the day the trip ends (Monday, November 8) is not included. That night is at your expense and reservations for that night are your responsibility.
This form is currently unavailable. Try again later.