Erie Canal / Finger Lakes
This form stopped accepting submissions on September 23, 2018 5:30 pm EDT.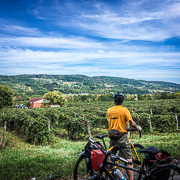 This tour is a definite GO!
The scenic Erie Canal Trail is steeped in history. This is a trail that is on many peoples' bucket list. And for good reason! For our tour we have selected 3 consecutive days, from Palmyra to Buffalo. These are, in our opinion, the finest sections of trail out of the entire 279 miles from Buffalo to Albany. From Palmyra to Albany there are a lot of gaps in the trail, which would either require road riding or van trips, so we will skip those sections. Nearby, just to the south lies the beautiful Finger Lakes region. To get a taste of local wine, and do a little road riding along the quiet shores of Keuka Lake, we will travel to the quaint lakeside town of Geneva. You may wish to extend your trip in order to visit nearby Niagara Falls, although we will not include this in our tour activities. 
For those who like to combine 2 tours, this one works well with either Cape Cod (Sept 15-21) before the tour, or the Great Allegheny Passage (Sept 29-Oct 4) after the tour. And you'll get $100 off the 2nd tour!
Estimate 140 miles in 4 days of riding
Tour Leaders: Colleen and Mark Troy 
---
Included
Overnight accommodations for 4 nights, 4 breakfasts, 2 lunches, 2 dinners, sag support, entrance to State Parks we visit
---
Itinerary
Day 1

We meet at our Buffalo airport hotel for our introductory meeting, followed by dinner at a nearby restaurant. We'll have a chance to get acquainted and learn about our upcoming adventure. You will receive cue sheets and more details.

Day 2

20 miles – We will drive for a visit to the Finger Lakes region. We'll spend the morning at beautiful Keuka Lake State Park for a scenic road ride around part of the lake. There are a few hills, but the local orchards and stunning lake views make it worthwhile. We'll enjoy a picnic lunch, then van to nearby Geneva where we will spend the night. This is one picturesque city!

Day 3

44 miles – We will drive up to Palmyra early morning to begin our riding on the Erie Canal Trail. You'll have a great ride today, with a lunch stop in Pittsford. You'll see harbors, locks and aqueducts as we bike through the city of Rochester. Scenic Genesee Valley Park is right on our route. The cycling today will end in Brockport, where we will spend the night.

Day 4

42 miles - We'll pick up the Erie Canal Trail where we left off yesterday. It's a flat, easy ride today, with lots of historic plaques and points of interest. We will bike through rolling farmlands and small canal towns. Lunch is just a few blocks off the trail in Medina. Lockport is our destination for the day. We'll go out for a fun dinner tonight to celebrate our time together.

Day 5

32 miles – Today we will complete our journey on the Erie Canal Trail, as we bike from Lockport to downtown Buffalo. This stretch of trail is full of historical markers, plus great views of some of the locks and the canal itself. We will meet for a picnic lunch at Ellicott Creek Park, then ride on to the finish line at Aqua Lane Park, near downtown. After we load up bikes we'll drive back to our opening hotel near the airport for our goodbyes.
---
Difficulty Level: Intermediate
This tour's routes include paved roads on Day 1, then crushed stone on the Erie Canal Trail. Our routes are suitable for all bicycles. There are some moderate hills on our first day of riding. The rest of the tour is on the Erie Canal Trail, which is quite flat and easy riding.
Suggested bicycle: Touring bikes, road bikes, hybrids
Suggested tire size for this tour: 25mm – 37mm 
---
Pricing
$1280 per person (based on double occupancy)
$390 – Single Supplement (extra price to have your own room)
$100 – Bike Rental (helmet and bike bag included)
---
Your Travel Plans
For this tour we meet riders at 5:00 pm on Sunday, September 23 at our Buffalo, NY airport hotel, location to be announced. The trip ends on Thursday, September 27. We plan to be back at the hotel by 4:00 PM.
If you are traveling by air you fly into and out of Buffalo Niagara International Airport. We return you to our opening hotel at the end of the trip.
If you are driving, you drive to the hotel. We return you there at the close of the trip.  You may leave your car there during the trip. There may be a fee to leave your car.
---
Your Lodging Plans
Your lodging from Sunday, September 23 through Wednesday, September 26 is included. Your night's lodging on the day the trip ends (Thursday, September 27) is not included. That night is at your expense.
The cost of this trip is $1280. per person (double occupancy)
Single supplement fee is $390.
50% of the total is a required deposit, due upon registration
The remainder is due 60 days prior to departure date. (Due date July 23) Cancellation details: If you cancel by 60 days prior to departure date, you will receive a 90% refund. If you cancel less than 60 days prior to departure date you will not receive a refund.
Please purchase trip insurance. We trust Allianz Travel Insurance. https://www.allianztravelinsurance.com
If we cancel due to not meeting our minimum number of riders, we will refund 100% of your payment. This decision will be made no later than thirty (30) days prior to the trip.
This form stopped accepting submissions on September 23, 2018 5:30 pm EDT.