Dayton Hub 2023
This form stopped accepting submissions on June 12, 2023 5:00 pm EDT.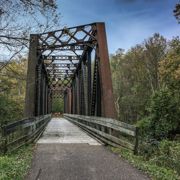 Dayton, Ohio is a city known for many things, including its fine bike paths. It is also the place that a couple of bicycling entrepreneurs created the first airplane. That's right, Orville and Wilbur Wright were from here, and operated their bicycle shop in Dayton. And their statues can be seen on a point near our home base for this very popular tour, our Dayton Ohio Hub Tour. 
As a HUB TOUR, we will stay at the same hotel for all 5 nights of the tour, which has several advantages. First, you're not limited to what type or amount of luggage you can bring. Second, you can bring an E-bike or other non-standard bike, since we won't be shuttling to different locations with our van and trailer. And third, this means you won't have to pack up each day and relocate to another destination. This will be a fun, relaxed tour in a location just brimming with cycling opportunities. 
Tour Leaders: Jack Pettry & Tony Palmer
Included
5 nights lodging
2 dinners, 5 breakfasts (there are many great choices for lunches & dinners on our rides)
Sag support
Daily cue sheets and maps
Daily social hour!
---
Itinerary
Day 1 - Sunday

Meet riders in Dayton for our introductory meeting and social hour.

Day 2 - Monday

36 miles – We begin our tour by cycling north on the Great Miami Trail, away from Dayton and into a more rural landscape. We'll ride through several large parks, along creeks and the Miami River. Our lunch spot is Tipp City (on your own), where you'll either turn around for the return bike ride, or hop in the van for a lift. It's a fine ride to kick off our tour.

Day 3 - Tuesday

29 miles - Wright Brothers Special! For the morning ride, we will take the Great Miami Trail to the Wolf Creek Trail for a few miles, then double back to visit the Wright Brothers Cyclery and the museum, part of the National Parks Service. After lunch we will bike to the National Museum of the US Air Force, where the Wright Brothers' inventions are on display. The museum is an incredible archive of airplanes and history of our Air Force. The ride back to our hotel is an easy 6 miles, so we can take a few hours here and absorb as much as we care to.

Day 4 - Wednesday

38 miles – Biking again from our hotel, we will use two excellent trails to visit Xenia. First, we'll hop on the Mad River Trail for a few miles, then find our way onto the Creekside Trail, which will lead us all the way to Xenia. Lunch is on your own here, and the return trip will bring the mileage up to around 38 for the day. Out-and-back rides are interesting, in that everything looks different from the opposite direction!

Day 5 - Thursday

31/45 miles - Today we again ride the Great Miami Trail, but this time we'll head south out of Dayton. The path follows the river in great, sweeping arcs with good views of the surroundings. Miamisburg is about 14 miles into the ride. Good lunch options are found here (on your own). Franklin is about 6 miles farther down the trail. So pick your route and have either a 28 or 40 mile day on the bike. We'll gather again tonight to share stories of our tour together. We might even share a pizza or two - who knows!

Day 6 - Friday

Optional mileage - Today we don't have any scheduled bike rides but checkout time is not until 11:00. You might want to retrace some of our previous rides or explore one of the nearby parks or museums in Dayton. We'll say farewell for now; It's been a fun tour in Ohio!
---
Difficulty Level: Intermediate
Ohio's trails on this tour are paved. The trails are suitable for all bicycles. The trails are mostly quite gentle and the riding is pretty easy.
Suggested bicycle: Touring bikes, road bikes, hybrids
Suggested tire size for this tour: 28mm – 37mm (or larger)
---
Pricing
$2,250 per person (based on double occupancy)
$475– Single Supplement (extra price to have your own room)
$150 – Bike Rental (helmet, bike bag and lock included)
---
Your Travel Plans
For this tour we meet people on Monday, June 12, 2023 at 5:00 pm at Fairfield Inn & Suites by Marriott Dayton.
Address: 305 E Monument Ave, Dayton, OH 45402 
Phone: (937) 331-9330
The trip ends on Saturday, June 17.
If you are driving to Dayton, there is free parking at the hotel during our tour. 
---
Your Lodging Plans
Your night's lodging from Monday June 12 through Friday, June 16 is included. Your night's lodging on the day the trip ends (Saturday, June 17) is not included. Should you desire to stay 'til Sunday, that night is at your expense and reservations for that night are your responsibility.
---
Dayton Hub 2023
This form stopped accepting submissions on June 12, 2023 5:00 pm EDT.