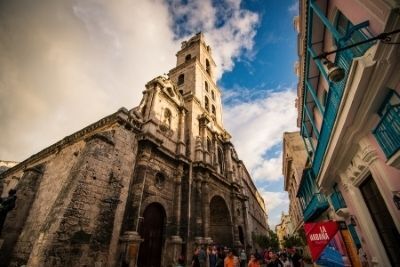 November 5 - 14, 2023
January 28 - February 6, 2024
February 20 - 29, 2024 (Tues through Thurs)
Take an 10 Day Adventure Exploring a Land Few Americans Have Seen
Cuba is a mystery full of charm and fabulous roads for riding. There's little traffic and an amazing mix of nature and culture.  Surprisingly easy access -- with daily nonstop flights from three cities in Florida, as well as Newark, Houston, Atlanta and other cities -- the Cuban people are eager to welcome you and share their country.  
A trip to Cuba is truly a step back in time in many ways, where American cars from the 1940's and 50's are a common site, fields are plowed by oxen or decades-old tractors and life moves at a slower pace. This ride takes you to both fabled and little-known parts of Cuba and will open your eyes to new wonders and your heart to new friends.
Our adventure begins in the provincial capital city of Santa Clara, where Ernesto Che Guevara, the Argentine revolutionary is buried. Our ride begins pedaling east towards the charming colonial town of Remedios, founded in the early 1500's and home to the ornate Iglesia Mayor of San Juan Bautista. Onward through fields of sugar cane and small towns we ride to Sancti Spiritus.
Then on to legendary Trinidad, perched above the Caribbean, where cobblestone streets and the click-clack of horses hooves makes it easy to imagine the lives of the early Spanish settlers that arrived here in 1514 and founded the city.  We have a full day to enjoy this colorful town where the streets throb with music at night.
Onward to Cienfuegos, Pearl of the South, settled by French at the invitation of the Spanish King!  The trip's grand finale is Havana, heartthrob of the Caribbean where Spanish colonial architecture is juxtaposed with art deco, art nouveau and Soviet blah.  Music pervades the air and Hemingway's haunts demand a look into history.  It's a city made for walking with monuments, wide avenues and quiet narrow streets and an ever-changing feast for the senses.  
Cycling & Travel Route: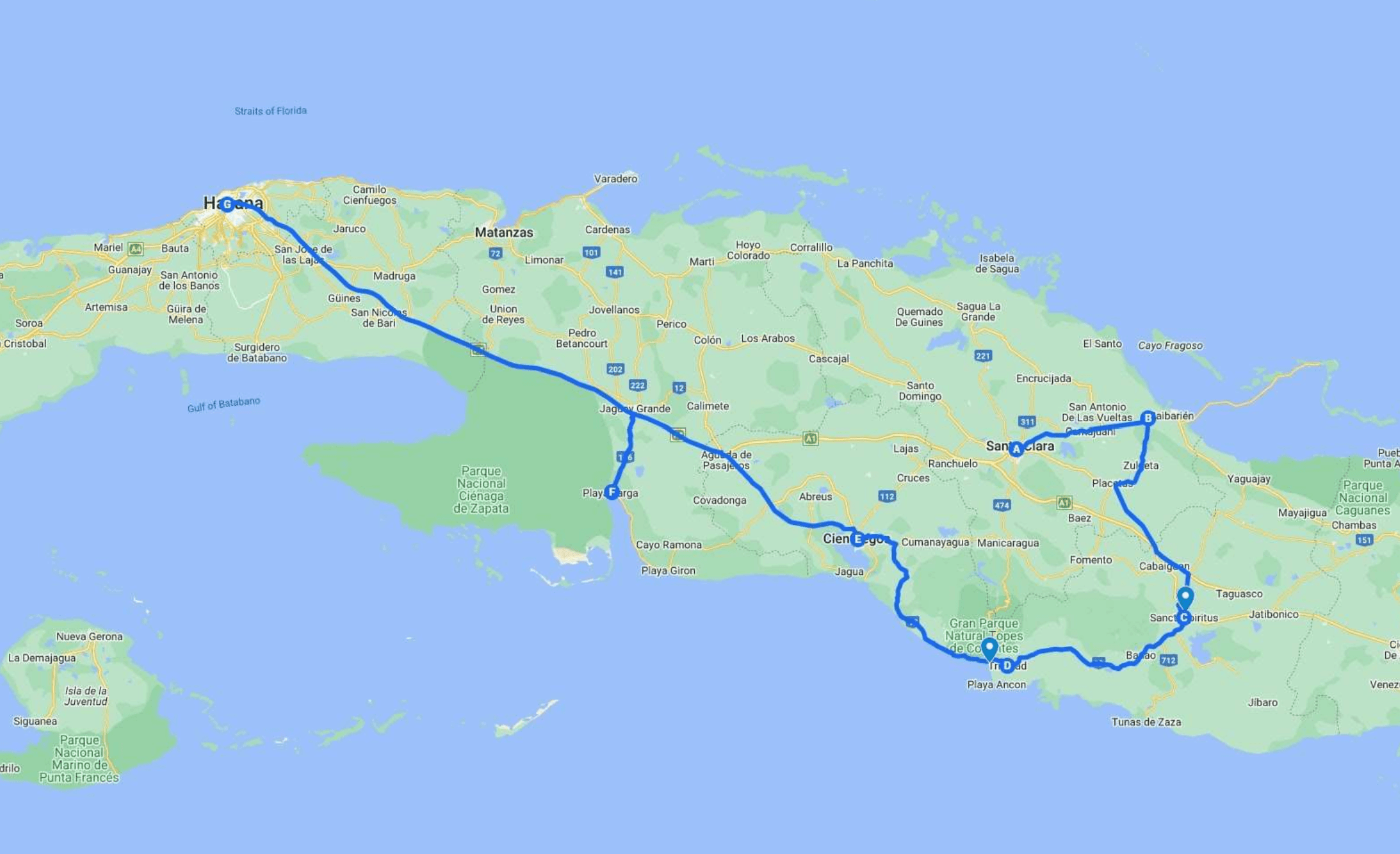 Tour Highlights:
Bike through some of Cuba's most stunning scenery
Visit the little-known colonial gems of Remedios and Sancti Spiritus
Explore the charming oceanfront towns of Trinidad and Cienfuegos
Snorkel in the Bay of Pigs and visit the Parque Nacional Cienega de Zapata
Meet with Cuban artists, teachers, farmers, park guides and more
Two nights in Havana including a visit to Old Havana and a full day tour of city highlights
Note:  Come to Cuba with a flexible attitude in order to enjoy each day to the fullest.  Unlike many destinations, our travels are run under the requirements of U.S. law and we have a full-time agenda of Support for the Cuban People activities.  You must participate in all group activities and the scheduled agenda. While the included visits and activities beyond our cycling are not guaranteed, we are sure to have a rich variety of content that fits our Support for the Cuban People program.  Remember you're in a country with a vastly different history and vision than your own.  From a practical standpoint, accommodations may not be up to standards you've experienced elsewhere.  Power goes out on a rather regular basis and thus hot water or air conditioning may not be available.  It's important that you appreciate the authenticity of your cultural encounters in Cuba, in addition to the resilient people, food that sometimes lacks variety, the colorful culture and rhythms of the music and pace of life. 
---
Itinerary
Day 1 - Nov. 5 / Jan. 28 / Feb. 20: Arrive Santa Clara

The trip starts in the provincial city of Santa Clara, served by American Airlines (as of March 2023 the only US carrier). Arrive on a late afternoon flight and transfer to our tour hotel. Dinner and an orientation.

Accommodation: Hotel America or similar
Meals included: Dinner

Day 2 - Nov. 6 / Jan. 29 / Feb. 21: To Remedios

We ride east towards Remedios, passing through several small towns as we ride on one of the few roads passing through the countryside. Sugar cane fields line the roads on parts of our ride, and horse carts clamber along with bikes and tractors.
After a picnic lunch and a few more miles, we arrive in Remedios, an intimate colonial town that radiates tranquility, offers alluring insight into Cuba's history without the traffic. Many sights can be found around Plaza Major, such as the Iglesia Mayor of San Juan Bautistia, Cuba's oldest church where 13 golden alters decorate the space inside this ochre-colored Baroque church. A short walk across the square are the sparkling white walls of Iglesia del Buen Viaje, also stunning in its own right.

• Elevation: +600/-1500 ft.
• Distance: 20 Miles
• Time: 2-3 hours with stops

Accomodation : Hotel Barcelona or similar
Meals Included : Lunch, Dinner

Day 3 - Nov. 7 / Jan. 30 / Feb. 22: Remedios to Sancti Spiritus

Today's ride is a lovely meander through fields and small farming towns. We pass through Yaguajay and some other pueblos, on smooth roads with moderate hills. In the distance are the mountains of Caguanes National Park. Well off the tourist path, we stop for a picnic lunch and rest our legs in a small town plaza where we are likely to strike up conversations with friendly locals.

Our bike ride concludes in the quaint town of Sancti Spíritus that was founded in 1514 by Diego Velázquez. One of the original seven Spanish settlements of Cuba, the town has a relaxed vibe. It's easy to explore the compact city center and we visit the small Museum of the Guayabera, Cuba's traditional shirt with a local guide who explains the history and significance of this formal attire.

We walk across the Puente Yayabo, an elegant quadruple-arched bridge and take a look upon the Teatro Principal, Cuba's oldest theater. After freshening up at the hotel we enjoy dinner at a local Paladar and those who want can likely discover some music in the town.

• Elevation: + 2019 / - 1864 ft.
• Distance: 45 Miles
• Time: 5-6 hours with stops
• Map & GPS PDF Profile

Accommodations:Hotel Rijo, Don Florencia or Hotel Plaza
Meals Included: Breakfast, Lunch, Dinner

Day 4 - Nov. 8 / Jan. 31 / Feb. 23: Sancti Spíritus to Trinidad

We start early to enjoy the morning air and begin a beautiful ride leaving town to the south. We start out on flat terrain and then begin a long, gradual ascent through mountainous farmland, looking out towards the verdant Escambray Mountains in the distance. This is one of our more challenging rides, but with a nice tail wind, it goes well as we head towards the crossroads town of Banao. There's time to relax and bit, mingle with the locals and enjoy some ice cream.
The ride now is more down than up as spectacular views ease our way until we reach the 18th century Manaca Iznaga estate just northeast of Trinidad. This former plantation has a storied history and has now become a restaurant. After lunch we climb up the 130' tower that was once used to survey the slaves and today is the perfect viewing platform for the stunning scenery of the area.
We transfer by bus for the last few miles into Trinidad and check into our Casas Particulares for the night. After everyone is settled it's time to explore Trinidad, a UNESCO World Heritage Site of 16th century beauty. Cobblestone streets and Spanish colonial mansions frame lovely plazas.
Dinner is a feast and those with energy will appreciate one of Cuba's best outdoor music venues at the Casa de La Musica on the steps of the town. Sway to the beats of salsa and saunter back to your Casa for the rest of the night.

• Elevation: + 1251 / - 1387 ft
• Distance: 34.9 Miles
• Time: 5 hours with stops
• Map & GPS PDF Profile
• Map & GPS Online Profile

Accommodations: Casas Particulares
Meals Included: Breakfast, Lunch, Dinner

Day 5 - Nov. 9 / Feb. 1 / Feb. 24: Trinidad & Parque Cubano

There's no riding today so we can explore Trinidad and rest our legs. In the morning we take a walk along a small river that passes through a forest where we can learn about the local ecosystem as well as local farm crops. Our hike ends at a waterfall and swimming hole where we cool off before starting back.

We return to Trinidad town for lunch followed by an afternoon visit to a local artist's studio to learn about the art scene in Cuba and how the government supports the arts.
By mid-afternoon you're free to explore on your own, choosing between any of several museums, shopping or simply relaxing with a book. For those who want, we have a dance lesson to learn the steps of salsa, followed by dinner.

Accommodations: Casa Particulares
Meals Included: Breakfast, Lunch, Dinner

Day 6 - Nov. 10 / Feb. 2 / Feb. 25: Trinidad to Cienfuegos

After breakfast we take a short bus ride, unload our bikes and ride on the road that parallels the sea. The road has gentle ups and downs, with steep mountains to the north and the sparkling blue Caribbean to the south. We stop on our ride at a beach for a rest and optional swim. Then it's on to lunch followed by a transfer into the city of Cienfuegos.
Cienfuegos is knows as the "Pearl of the South" and every Cuban will tell you how they dream of visiting. It's full of history, settled in the 1850's by French people from Bordeaux and Louisiana, invited by the Spanish Crown. The city's center is another designated UNESCO World Heritage Sites including the Prado lined with mansions and the city square. An informative walking tour showcases the late 19th century Teatro Tomas Terry which seats 900. A highlight is a private performance by the Cienfuegos Choir, an internationally renowned choir that travels to competitions throughout the world.
We dine at a local paladar located near the "Prado" or central boulevard, which has a lovely raised central walkway with trees and benches and is one of the city's central social points. Those with energy may enjoy an evening walk along the malecon which comes alive after 9 pm with the city's youth.

• Elevation: + 851 / - 987 ft.
• Distance: 24.4 Miles (optional +15.5 miles +565/ -411 ft.)
• Time: 3.5 hours with stops
• Map & GPS Online Profile

Accomodation : Cienfuegos Casa Particular
Meals Included: Breakfast, Lunch, Dinner

Day 7 - Nov. 11 / Feb. 3 / Feb. 26: Cienfuegos to the Bay of Pigs, Playa Giron and Playa Larga

A short distance outside of Cienfuegos, our ride begins in the small town of Yaguaramas on a tranquil two-lane country road passing through agricultural lands. This pastoral road has fields on either side and we may see oxen pulling plows, rice drying on roads and perhaps people working in the fields. By late morning we arrive in Playa Giron on the shores of the Bay of Pigs. Giron was a French pirate, and the bay is the site of the famous U.S.-orchestrated but failed invasion in 1961.

After a feast at a local Paladar we make a short visit to the Museum of the Bay of Pigs for an informative interchange with a museum guide. Then it's a short drive or optional ride to a colorful snorkeling place here in the Zapata National Park. Cuba is home to the healthiest reef system in the Caribbean and our snorkel time allows us to learn to learn more about the important scientific collaboration between Cuba and the US relative to reef and marine health.
A short drive takes us to the beachside town of Playa Larga to check into our Casa Particular for the evening. Before dinner we meet with a staff member of the National Park Service for an enlightening discussion to learn about the challenges facing the Park, various conservation projects and more.

Dinner is traditional Cuban food, served with care by our local hosts.

• Elevation: + 414 / - 506 ft.
• Distance 35.2 Miles
• Time: 4-5 hours with stops
• Map & GPS Online Profile

Accommodation: Casas Particulares
Meals Included: Breakfast, Lunch, Dinner

Day 8 - Nov. 12 / Feb. 4 / Feb. 27: Playa Larga to Havana

In the morning we depart tranquil Playa Larga and drive towards Havana. On the outskirts of the city we stop for a visit to Finca Vigia, Ernest Hemmingway's home from about 1940 to 1959 where he lived and found inspiration for his book "The Old Man and the Sea." He led a rather controversial lifestyle and today his house and grounds are a museum where you can look through the windows to see the rooms where he lived and worked. His boat the Pilar is also on display with its own storied history.

We continue into the vibrant metropolis of Havana. We take an introductory walking tour of old Havana where Spanish colonial architecture gleams in beauty. Old Havana
has streets barely wide enough for cars and hums with life. There are ornate historical buildings of various architectural styles ranging from the 16th to 20th century. We visit the four plazas of old Havana and then continue to check into our hotel for the evening.

Accommodations: Hotel Presidente or similar
Meals Included: Breakfast, Lunch, Dinner

Day 9 - Nov. 13 / Feb. 5 / Feb. 28: Havana Day Tour

Today we explore some of the highlights of Havana beyond the old colonial part of the city with a full day of discovery and learning. In the morning we will head west to Jaimanitas, to see the colorful neighborhood of Fusterlandia. Jose Fuster says some of his inspiration came from Picasso and he has taken art from his gallery to the streets to create a magical world that mixes art and architecture. We return east through the mansion-and-embassy-laden streets of Miramar and on to Centro Havana for a visit to the Museum of Fine Arts in central Havana (Museo Nacional de Bellas Artes de La Habana) where we focus on Cuban art featuring a broad spectrum of styles and subjects. After lunch we may stop at Hemingway's favorite bar for Daiquiris, La Floridita, and then take a stroll along the Prada where street artists display their paintings and other works. Finally, a stroll on the seafront malecon tops the afternoon, as this is one of Havana's central gathering places for folks of all ages.

Late in the day, we start our final night out on the town with a winsome drive in classic cars that haven't lost their 1950's glamour. With wind blowing in our hair it's easy to imagine the years when hundreds of Americans flew to Cuba for a weekend of partying. We share a final dinner together and reflect on all we've learned.

Meals Included: Breakfast, Lunch, Dinner

Day 10 - Nov. 14 / Feb. 6 / Feb. 29 - Departure

Today, it's Adios Cuba!

Transfer to the airport on your own* based on your flight time.
*Taxis to the airport are approximately $25-30 for up to 3 people with luggage.

Meals Included: Breakfast

IMPORTANT NOTE:

The listed activities and itinerary above may undergo some changes as they are contingent upon factors such as the availability of guest speakers, weather, and transportation. In such cases, we always attempt to substitute similar activities that maintain our tour's focus of Support for the Cuban People encounters and further your Cuban experience.
---
NOTE:
Senior Cycling is proud to partner with Cuba Unbound to offer our first international trip (well, you know, besides Canada :)). The two companies are working closely together to ensure that participants will enjoy the typical "Senior Cycling experience", with relaxed riding, small groups (the maximum number of participants on this tour is 18), expert tour leaders and fine cycling routes. Registrants will be contacted by Cuba Unbound within a few business days to complete booking after registering here with Senior Cycling.
---
Pricing
$4,120 per person (based on double occupancy)
$640 – Single Supplement (extra price to have your own room)
Bicycles and helmets are included in the tour price
---
Not Included
Airfare/transportation TO SANTA CLARA and FROM HAVANA
Cuba Tourist Card (see your Reservation letter for information about obtaining)
Alcohol with meals
Items of a personal nature such as laundry
Gratuities for guides
Travel Insurance (Strongly encouraged)
Your Travel Plans
As of March of this year, American Airlines is the only carrier that serves Santa Clara, however multiple U.S. carriers operate to and from Havana. For both cost and convenience, we ask that you book your own air travel. Please wait to book any travel or pre/post-trip accommodations until we have confirmed the trip for you. 
When your tour is confirmed you will need the following documentation for travel to Cuba:
Passport: A passport is required and must be valid for at least 6 months after your return date. (This information about travel documents pertains to participants holding U.S. passports. Any other passport-holders should contact us regarding specific requirements.) 
Cuba Tourist card: this is your tourist visa which enables you to legally enter the country. **There are two ways to obtain this.  The easiest is to buy it at either the Miami or Fort Lauderdale airports at the gate for your flight.  The airlines have them available at a price of $100.  If you would rather buy the visa in advance for $85, it can be purchased from Cuba Travel Services 
Flight tickets/confirmation
Documentation of Travel to Cuba: Be sure to bring the itinerary that is provided in your final information packet, as proof that your tour has a schedule of compliant activities as required by U.S. law under the Support for the Cuban People general license category (§ 515.574).  This is the category you will choose from the 12 permitted categories of travel when you purchase your airline ticket. It is your responsibility to track and record your activities and interactions with Cuban people, and to keep this documentation for 5 years. The itinerary we provide will help you do so and has room for additional notes regarding daily activities and people you meet while you are in Cuba. This is an unofficial document and only one per household is needed. Cuba Unbound has no control over travel requirements established by OFAC (the U.S. Office of Foreign Asset Control), however, we've done our best to ensure this information is current and accurate based on current regulations.
To learn more about the rules regarding Support for the Cuban People, click here and particularly note the "examples" of what does and does not qualify.  Our tours are designed to qualify every traveler as a person who is visiting Cuba in Support for the Cuban People.
Proof of Medical Insurance: Cuba requires all travelers to Cuba to have travel medical insurance. Travel medical insurance must include coverage for medical evacuation, emergencies, and repatriation. The company providing your travel medical plan must be able to make payments from a non-U.S. banking institution.
U.S. airlines include the mandatory level of travel medical insurance in your ticket. Guests may purchase supplementary coverage at their discretion; we recommend such action as the mandatory amounts are set rather low.
Cuba Unbound partners with Travel Insured International for this supplementary coverage, the costs of which depend on coverage amount, length of travel, and age of traveler. 
---
SIGN UP NOW!
Unsurprisingly, this Tour has proved to be incredibly popular.  The November tour is full, while  each of the additional tours scheduled for early 2024 (Jan. 28 - Feb. 6  & Feb. 20-29) have only a few openings remaining. Let us know you're interested, and we'll get in touch with more information.