Colorado 2019
This form stopped accepting submissions on August 12, 2019 5:00 pm EDT.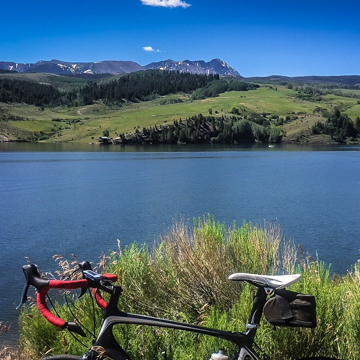 NEW TOUR! 
Colorado Pathways, Peaks & Creeks
In the summertime, Colorado is a great state for an endless variety of outdoor activities; cycling, hiking and just exploring.  Moderate temperatures, plenty of daylight, low humidity, few bugs and miles of paved dedicated paths for our tour. 
After gathering and settling into the altitude in Denver for two nights, we head 1 hour west to Summit County, home of world class ski resorts, friendly towns and 65 miles of paved bike paths affording us safe passage to many sights.  Our lodging is in the town of Dillon sitting directly on the north shore of Lake Dillon, a 3,230 acre recreational lake with 26 miles of shoreline and surrounded by mountains.  We will explore each of the three tributaries that feed this beautiful lake including the charming towns they flow through. We will ride beside the stunning mountains of the Continental Divide and Tenmile and Gore Mountain Ranges. 
This tour is a definite GO, so don't wait, sign up today!
Tour Leaders: Alan and Mary Jo Brown, Silverthorne, Colorado
Included
7 overnight stays
7 breakfasts
2 lunches
2 dinners
Sag support and van shuttles
Shuttle back to Denver hotel or Union Station
---
Itinerary
Day 1 - Monday, August 12

We will gather at a hotel in the Cherry Creek - Denver area for orientation, cocktails and group dinner at a local restaurant. Our hotel will be right off the Cherry Creek bike path.

Day 2 - Tuesday, August 13

12/24 miles – After shaking down the bikes, we will jump onto the Cherry Creek Trail and head south. We will cycle along the creek and through parks ending at Cherry Creek State Park for a picnic lunch. Afterward you will have the option of either riding back or taking the van to the hotel. You will have ample time to explore the Cherry Creek area.

Day 3 - Wednesday, August 14

15/25 miles – After breakfast we will depart for Dillon, Colorado just over an hour west as our base in Summit County for the rest of our tour. The Dillon Reservoir was named for the original town that sat at the confluence of the Blue River, Ten Mile Creek and Snake River. There are structures in the area that were moved from the original town and a visit to the Historical Society Museum is recommended. Our location at Ptarmigan Lodge overlooks the lake with perfect access to the bike path and its many riding options. We will do a 15 mile round trip ride to Keystone up the gentle Snake River Valley following the river to River Run in Keystone. Additional miles if desired can be found right on the path.

Day 4 - Thursday, August 15

Day off to explore. We will start with the Lake Dillon Historical Boat Tour lasting just over an hour with 360 degree views of the surrounding mountains and historical information about the dam, reservoir and surrounding areas. After the tour, all are free to explore the area and shuttle for hiking, kayaking or to Frisco for shopping and exploration. As always there will be riding options for those interested in more bike time.

Day 5 - Friday, August 16

15/30 miles – Heading west on the path we will cross the 5,888 foot long Dillon Dam and gaze north up the Blue River Valley. We will pedal through Heaton Bay Campground and the Frisco Marina on the way to Breckenridge, a famous ski town and old mining village. The trail follows the lake and then the Blue River Valley. "Breck" is a buzz of activity in the summer so plan on spending some leisure time for lunch and exploring before heading back Dillon on your bike or van shuttle option.

Day 6 - Saturday, August 17

Shuttle to Vail for a day of cycling the Vail Recreation Path, riding the Gondola for a hike, visiting the lovely Betty Ford Alpine Gardens and just exploring this European style village.

Day 7 - Sunday, August 18

22 miles – Prepare yourself for a fun and scenic ride down from 10,500 ft elevation Vail Pass on the popular gradual paved rec path that offers views of the mountains to the east. We will pass thru Copper Mountain Ski Village. This ride follows the Ten Mile Creek. You will breeze down the path thru woodlands, creek crossings, mountain lakes and open meadows. After exploring Frisco for lunch you can head back to Dillon on the path at your leisure. We will celebrate our tour with dinner out at a local restaurant.

Day 8 - Monday, August 19

Enjoy your last morning soaking in the scenery before we pack up and conclude our tour, leave these beautiful mountains and head back to the hotel in Denver or to Union Station transport hub for light rail to the Denver Airport.
---
Difficulty Level: Intermediate
All of our routes on this tour utilize paved bike paths. 
Suggested bicycle: Touring bikes, road bikes, hybrids or mountain bikes
Suggested tire size for this tour: 25mm and larger
---
Pricing
$1820 per person (based on double occupancy)
$460 – Single Supplement (extra price to have your own room)
$100 – Bike Rental (helmet and bike bag included)
---
Your Travel Plans
For this tour we meet people on Monday, August 12, 2019 at 5:00 pm at our downtown Denver hotel. Location to be announced.
The trip ends on Monday, August 19. We plan to be back in Denver by late morning.
If you are flying, you fly in and out of Denver International Airport. We recommend the light rail from the airport to Union Station with a short walk or taxi to our starting location.
If you are driving, meet us at our hotel. You can leave your car at hotel during our tour. There may be a fee for this.
---
Your Lodging Plans
Your 7 nights of lodging from Monday, August 12 through Sunday, August 18 are included. We have made reservations for those nights. Your night's lodging on the day the trip ends (Monday, August 19) is not included. That night is at your expense and reservations for that night are your responsibility. We have not reserved any rooms for that night.
This form stopped accepting submissions on August 12, 2019 5:00 pm EDT.