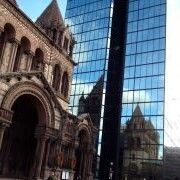 As a Boston native, I'm excited to offer Senior Cycling's first-ever cycling tour of this compact and exciting "Hub" of history, architecture, arts & culture, higher education, technology, medicine, and sports. Only the most intrepid first-time visitor would attempt driving a car in Boston, but the city has many wonderful, safe bike paths mostly aligned with the famous "Emerald Necklace", and there's so much to see and enjoy from the vantage point of your bike seat.  There'll also be plenty of time to take in some attractions by foot, easily accessible from our hotel. 
A Senior Cycling Hub Tour means we're ensconced in one hotel the entire week, and we either ride out from the hotel, or (as on 2 days of this tour) we transport by van to the start of our ride, and return there by van at the conclusion of the day's riding. Our headquarters is the classic, fabulously located Colonnade Hotel on Huntington Avenue, the border between the city's bustling Back Bay and charming South End neighborhoods, and just a few blocks from well-known landmarks like Copley Square, framed by Trinity Church and the Boston Public Library, the Prudential Center, and the Boston Public Garden. 
Boston is an expensive city to visit, especially in June, but I've secured a great rate for our week and with my local knowledge, I'll ensure you get your money's worth! We'll start the week with a fabulous overview of the city from ViewBoston, atop the Prudential Center right across the street from our hotel! And to ensure you don't miss anything, we'll conclude the week with a Friday morning Boston Duck Boat Tour -- so you'll have seen the City from every possible angle!
There will be plenty of time for you to explore and take in the flavor of the City, and satiate your particular interests, whether that's a walk through the Museum of Fine Arts, a tour of Boston Symphony Hall, the famous Italian North End, the Freedom Trail, the waterfront New England Aquarium ... the list of possibilities is almost endless! 
Our 4 days of riding will cover these areas and trails:
- The Charles River Greenway, from the Esplanade and riverfront Hatch Shell out to Harvard University, past MIT and beyond
- The Harvard University's Arnold Arboretum and Jamaicaway bike path to the Fenway, the crown jewel of Frederick Law Olmsted's famous "Emerald Necklace" and home to Boston's Museum of Fine Arts and Isabella Stuart Gardiner Museum.
- The Minuteman Bikeway, from the west end of Cambridge out to Lexington, where we'll visit Minuteman National Park as well as the Old North Bridge in Concord, site of the "Shot Heard 'round the World'
- The Neponset River Greenway, starting in Boston's Hyde Park neighborhood, past Dorchester to Columbia Point, home of the UMass Boston campus and the John F. Kennedy Presidential Library, finishing on South Boston's harborfront Castle Island.
Tour Leaders: owner Ned Raynolds and Jim Alves
Included
As much as 120 miles of cycling over 4 days
5 nights lodging in a modern, upscale hotel in Boston's charming South End
3 lunches, 3 dinners
Sag support
Ticket's for Sunday evening's "ViewBoston" skyline view of the City, as well as Thursday afternoon's visit to JFK Presidential Library and Friday morning's capstone "Duck Boat" tour of Boston, by land and by sea! 
---
Itinerary
Day 1 - Sunday

Arriving in Boston, check in at 4:00 p.m. and gather in the lobby to get acquainted with each other and discuss our plans and expectations for the week. Then we'll head across the street and up to the top of the famous Prudential Center to ViewBoston, where you'll get a fabulous overview of the city and our riding routes for the week, followed by a delicious dinner.

Day 2 - Monday

30 easy, very flat miles -- We'll begin our week in Boston by riding the heart of the City, making our way from our hotel over to the Boston Public Garden (walking our bikes through), enjoying the blooming trees, flowers and shrubs, the historical statuary, and stopping by the famous "Make Way for Ducklings" statue. Passing by the Bull & Finch pub (the inspiration for the TV series "Cheers"), we'll cross above Storrow Drive on an elevated pedestrian ramp bridge to arrive at the Esplanade and Hatch Shell, site of the Boston Pops' annual 4th of July concert. We''ll bike the Charles River Greenway, passing behind Boston University, Kenmore Square and on out to where Harvard University straddles the River. We'll enjoy the quieter part of the Charles River in following the Greenway out to Watertown, then return and spend some time in Harvard Square, including lunch on your own. After lunch we'll bike back into the city along the Cambridge side, passing MIT and enjoying the view of the Boston skyline, to Kendall Square, an arts and biotech district. We'll go back across the River past the Boston Museum of Science, and retrace our steps to the comforts of our hotel. After a rest/refresh, explore the neighborhood and choose a restaurant for dinner.

Day 3 - Tuesday

15 - 20 miles -- Again we'll ride out from our hotel after morning commute time following the Southwest Corridor Park for 5 miles to Harvard University's Arnold Arboretum, a 281 acre oasis in the Jamaica Plain and Roslindale section of Boston. A circumferential loop is approximately 4.5 miles, but you can also bike along the paved main paths for a tree-lined, meandering route. If you can pedal or walk the 240 ft. Peters Hill at the southern tip of the park , you'll be rewarded with another great view of the city. After a picnic lunch, we'll follow the Jamaicaway bike path, passing Boston's Longwood Medical area including the world-famous Dana Farber Cancer Institute, back up into the Fenway, the crown jewel of Frederick Law Olmsted's famous "Emerald Necklace" and home to Boston's Museum of Fine Arts and Isabella Stuart Gardiner Museum. You could park your bike and spend a few hours in a museum or continue to explore the area, perhaps take a tour of nearby Fenway Park!

Day 4 - Wednesday

15/30 miles or more - your choice. Today we'll van out to the west end of Cambridge and ride northwest on the Minuteman Bikeway, out to Lexington where we'll visit Minuteman National Park and old North Bridge in Concord, the site of the "Shot Heard 'round the World'. Explore the area's historic houses, taverns, and interpretive sites on your own. We'll enjoy lunch together from Helen's Restaurant in Concord Center. Those who'd like to bike the trip back may do so, while those who want to spend more time exploring can do so and then jump into the van and return to our starting point by around 4 pm.

Day 5 - Thursday

20 miles – Again we'll van out to the start of our ride and bike the Neponset River Greenway, starting in Boston's Hyde Park neighborhood, passing south of Mattapan and Dorchester and ending up at Columbia Point, home of the UMass Boston campus and the John F. Kennedy Presidential Library. After spending a few hours there, we'll get back on our bikes and pedal a few more miles along the waterfront, past South Boston's Carson Beach to Castle Island to complete our bicycle tour of Boston with sweeping views of Boston Harbor from Fort Independence, considered the oldest fortified military site in British North America. Then we'll van the 4 miles back to our hotel via the trendy Seaport District, grab a nap, and then enjoy our final dinner together at a Back Bay restaurant.

Today we'll finish our week with a flourish, just to be sure we haven't missed anything! Just a short walk from our hotel, we'll board one of Boston's famous Duck Boats (a W.W.II style amphibious landing vehicle) for an 80 minute narrated tour through many of the City's unique neighborhoods and past historical landmarks highlighting Boston's status as the birthplace of freedom and a city of firsts, from the golden domed State House to the Boston Common, Quincy Market, the historic North End to fashionable Newbury Street and more. Just when you think you've seen it all, it's time for a Big Splash as your ConDUCKtor drives the DUCK right into the Charles River for a breathtaking view of the Boston and Cambridge skylines. We'll be back at our hotel in time for noon check-out!
---
Difficulty Level: Intermediate Plus
This tour's trails are all paved and suitable for all bicycles. There will be some sections of on-road riding, most in marked bike lanes.
Suggested bicycle: Touring bikes, road bikes, hybrids
Suggested tire size for this tour: 28mm – 38mm 
---
Pricing
$3,125 per person (based on double occupancy)
$875 – Single Supplement (extra price to have your own room)
$150 – Bike Rental (helmet and bike bag included)
---
Your Travel Plans
Check-in at the Colonnade Hotel at 4:00 pm Sunday afternoon. The tour ends on Friday after our 10:00 am Duck Boat tour (which starts and ends nearby and lasts 80 minutes) Hotel Checkout is out noon.
Boston is famously difficult to drive in for those unfamiliar.  Parking for the week would be expensive. Flying into Logan Airport or taking Amtrak into South Station, just 1.5 miles from the hotel, would be great options.  Talk with me about your plans if you have questions or concerns. 
---
Your Lodging Plans
Five nights' lodging from Sunday, June 18 through Thursday, June 22 is included.  Lodging on the day the trip ends (Friday, June 23) is not included.  If you wish to stay overnight on Friday or the whole weekend, that would be at your expense and reservations are your responsibility.